(Last Updated On: June 1, 2022)
How do you choose the best yoga mat size that really suits for you?
Years ago, there was only a basic type of Yoga Mat which was mainly made of PVC with solid plastic material and very thin thickness of one standard size, Nowadays, with hundreds of different modern yoga mats on the market, it is designed to suit every taste, activity and preference, but in different sizes.
Beyond than patterns or colors, a workout rug is needed to keep you steady in your different poses or perform workouts and warm-ups.
It should suit your needs, be store-able, easy to transport, high quality made and comfortable at the same time.
These features actually tailor your personalized mat along with the correct size of the mat, the essential elements that determine if a mat is right for you and designed for your specific purpose.
Use the comprehensive guide below to help you find the best yoga mat size that can fit your exercises, lifestyle, and budget, so you'll finally be happy.
---
"On this page contains some sponsored links and ads with special deals, As an Amazon Associate when use the links for a qualifying purchases I may get a small commission at no extra cost to you, and you may get a great bargain. Read Full Disclosure"
---
But let us first discuss the following point,
Why choosing a Yoga Mat is better for you than a Regular Mat when working out
Many people think that the use of a yoga mat means that it is only necessary for yoga practices, the exceptional character of it is related to its sticky features that can help yogis to hold their correct poses more easily.
Yoga Mats are made of synthetic materials that are used to help during exercise to avoid slipping of the hands or feet during poses and exercises, such as Quad Exercise and Hamstring Stretches.
That is why they are known as Non-Slip Mats. Yoga Mats are designed to provide your fitness, positively transform your exercise practice with comfort, and support stable movements.
Best Yoga Mat Size (How to Measure Size)
In order to determine what size mat is right for you! or if you've never used a yoga mat and just started practicing, don't worry about it.
Today, we'll explain everything and cover you with the essential basics you need. The main factor that you need to find out now is the length and width of your right Mat.
To do this, it is best to get a tape measure and write down some necessary measurements which will come in the next section. It will explain to you step-by-step of how you can determine the appropriate mat dimensions needed.
Mat Length
Each of us will certainly get a different yoga mat size, and this is subject to several factors.
The first important basic factor you need to ask yourself is how tall are you?
As a common scale, a standard 68 inch (about 172 cm) Mat works very well for anyone under 5 feet 6 inches (about 168 cm) tall.
Furthermore, for every inch of the person's height increase, you will need to add a few more inches to increase the length of the mat size. This is more practical if you plan to use the mat when lying down.
There is nothing worse than being partially outside the frame of the mat, it can throw off your balance and may cause additional injury by slipping out.
Mat Width
Width is also the second crucial point to consider, as deciding how much extra space you need depends on the type of workouts you are planning to perform.
If you plan to lie on your back or stretch on the mat most of the time, you can consider choosing a wider size yoga mat.
A few extra inches wider will have a huge impact on how you feel during your workout.
Nothing's feel worse than being partially off the mat frame, it can throw you of balance move and may cause extra injury by slipping out.
Yoga Mat Size Chart
Mat Size
Mat specification

Length in Inches

Width in Inches

Kids

Ideal for 

children aged 5-8 years

60″

24″
Standard

Commonly used for beginners, fits most body sizes, not recommended for people over 5 feet tall

68″

24″
Longer

Recommended for tall >= 5 feet

71″, 72″, 74″, 84″

26″
Wider
If you prefer extra space for the sides

68″ – 72″

28″ – 30″
How to Pick the Right Yoga Mat for You? 
To make sure you choose the best suitable mat, you need to check the following steps:
Choose Your Mat Size


In short, a common size of a yoga mat is about 5 feet 6 inches (172 cm) length and 2 feet (62 cm) width, and the thickness of a yoga mat usually varies from lightweight 1⁄16 inches (2 mm) up to 1⁄3 inch (8 mm) or 1⁄2 inch (12 mm) with hard or soft mats, Below are the main categories sizes:
The Yoga Mat standard size is 24 inches wide and 68 inches long. But for professional yogis, there is no fixed set of their measurements, and they are often tempted to choose other sizes.
In general, the standard size is the most commonly used, plus it is recommended for beginners who are just starting to practice using a mat.
Standard mat size for most women, fits most body sizes. But if you are more than 5 feet tall, you may want to consider a yoga mat that is longer than usual.
Longer Yoga Mat Size (Extra Long)
The extra-long yoga mat is specially designed for those who are taller than a standard size and need more space while performing their exercise routine, stretching or poses like a downward dog.
The Extra-long mats come in different length sizes at 71, 72, 74 and 84 inches.
Wider Yoga Mat Size (Extra Wide)
In addition to extra long mats, you can also find a very wide yoga mat.
The reason behind this is that some people prefer extra space on the left and right, or some routine movements require doing more space to keep them within the mat frame for extra care to avoid themselves from any slippery.
These wide mats usually come in 28 to 30 inches wide, but you can still find some wider than that if needed.
Kids yoga mats usually come in size 60 inches long x 24 inches wide x 3mm thick and are designed primarily for kids ages 5-8 and ideal for any floor.
Which can be used for different activities or exercises, stretching or playtime with textured non-slip surface, providing safety and security for your kids.
It is made of safe materials and is an ideal choice for children, in addition, it is environmentally friendly.
Check Yoga Mat for Kids "on Amazon"  
Choose the Thickness of Your Mat

The thickness of each yoga mat is related to many factors, one of which should determine how comfortable you are!
How Thick Should a Yoga Mat Be?
Body Needs
The best type of yoga mat depends on the needs of your body type. If you have joints that sore easily, you need to consider a thicker mat or extra padding mat, which will be softer and easier on your joints.
Standard thickness is 1/8 inch, but better to go up with 1/4 inch. Furthermore, you can consider a thicker mat if you prefer more cushioning.
Connected to Earth
The 1/4 inch mat can make it more difficult for you with a strong sense of your connection to the floor, if you have doubt about this thickness and feel you need to experiment with connecting to the ground, you can reduce the thickness by 1/8 inch, it will be a better choice for you.
Types of Practice
If most of your practices are seated spinal positions (lying on your back) you need to consider a thicker mat that provides more comfort and safety for your back bones and body parts. 1/4 inch thicker mats will be better for you.
Mobility
Other aspects to consider how portable your mat should be! If you plan to pack your yoga mat in a carrying bag, choose a 1/16 inch foldable travel yoga mat, it will be easier to do outdoor exercise regularly.
Different types of common yoga mat thicknesses available in the market (In Millimeters):
2 MM = (1/12 Inch)
3 MM = (1/8 Inch)
4 MM = (1/6 Inch)
6 MM = (1/4 Inch)
8 MM = (1/3 Inch)
Choose Your Mat Material

Most standard yoga mats are made of PVC, which is commonly known as vinyl. A newer version of the mats and a more eco-friendly option, include recycled natural rubber or natural cotton "No fabric is processed during manufacture with industrial finishing" A Non-toxic yoga mat, which is safer for health than plastic "PVC" yoga mat.
If you are planning to have a sticky mat, choose a mat made of PVC, which can withstand your use for more than a few years.
Healthy Guide: If you are allergic to latex, make sure it says latex-free in the mat's instructions.
Choose Your Mat Style

The style of the mat depends on your taste or the pattern you prefer, and it makes you feel better during practice, because you will feel the daily connection with your mat. And ultimately more passion for your mat exercises, which reflects on you to gain a better health.
Below are the different styles you can choose from:
It states that your mat has one standard color on both sides, if you prefer such an option, you can pick this style.
In the printed mat pattern, you can find many great designs that match what you are looking for, whether it is pattern shapes or colors. Plus, in some cases, you can customize your own exclusive and unique yoga mat design or customize the theme and print it on your own mat.
Which will give a personality touch of your own fingerprint, but this will cost you extra money, but it is worth trying such a unique experience.
If you prefer two different colors on both sides of the mat, this is the best pattern to choose that you need to pick up.
On both sides of the reversible mat, you will have 2 different designs that can be used for both sides during training, allowing you from time to time to switch and have a brand new mat, once flipped over to another side, this way you have 2 mats in one piece.
Note: During my research in the market I found Gaiam Yoga Mats "Available on Amazon" Which have all the above patterns, other than it is durable, which offers flexible features compared to other mats.
Room Space Area
Other aspects to consider that may affect the size of the mat, is the amount of room space you have, which allows you to easily use the mat while training. If you are running out of area space, you need to choose either a standard mat size, or you can practice in the garage, outdoors, or in a nearby park.
I think this should not limit you in performance or practice, because there are a lot of ideas you can discover to solve this problem. But I just reminded you to keep that in mind, to be ready once you choose the right mat or once you start training.
FAQ
What is the Purpose of a Yoga Mat?
With the design and special manufacturing materials for the yoga mat, the purpose is to prevent hands and feet slipping during exercise or practicing poses.
Modern mats come in vibrant shapes for training and are usually made of either rubber or plastic. Moreover, this mat will provide you comfort, stability and support during your workout.
What Practices Can You Use a Yoga Mat For?
The yoga mat can be used for various practice and routine exercises as the following:
Stretching with a Yoga Mat: There are many basic warm-ups, stretches and routines that can be practiced with a yoga mat, such as the Glute Bridges stretches which are often used to strengthen the glute muscles and balancing the lower body.
Workout using a Yoga Mat: The Bird Dog is one of the basic exercises for lower back exercises and spinal strengthening exercises.
Yoga Exercise: Yoga fans are sure that a Yoga Mat is an essential item for them to start practicing.
How Do I know What Yoga Mat to Buy?
In short, you need to look at the following details to decide which yoga mat to buy:
Check Your body Needs: If you have pain in your knees, you need an extra thickness mat, if you want to be close and connected to the ground, you need a thinner mat.
Mat Size: In addition, you need to check your height to bring a longer or standard size mat, and the width that suits you best.
Transportable Mat: If you have plans to perform an activity outside your home, so you need to consider a lightweight mat with either a mat strap or a mat carrier bag.
Mat Material: Check if you have any sensitivity to a particular material or would like to have a more hygienic mat with latex-free. Other people prefer rubber over PVC. In all respects, you can select the choose that suits you best.
Mat Texture: Padded mat is softer and more comfortable than a regular mat. Or prefer the more solid mats, properly so you can master your complex movements and practice.
Non-Slip Mat: It is important for you to have this feature to add control grip and sticky movements, or prefer free motion with a non-control practice!
How To Clean and Maintain a Yoga Mat?
Use a solution of warm water and dish soap. Add the liquid to a spray bottle or pour it over the mat. Then start by cleaning it with a dry towel and then wipe the mat, once you are done put the mat in a dry place for a few hours. You finally have a mat as clean as new.
Further, you can add a little vinegar and mix it with the liquid solution, which will help get rid of dirt, oil, and any odor. Dish soap or laundry detergent are the best options for a mild carpet cleaning.
How to Store a Yoga Mat At Home?
This is valid, if you have more than one mat for you or your family, Their are different points you need to consider in mind while storing your yoga mat. How much space is available! A Convenient place to care for the mat for longer use, and availability, so you can reach it fast when you decide to train.
So you need to keep a balance between these factors, the following ideas will help you store better:
Cabinets
This is the most traditional and most reliable storage solution in case you own several mats. Yoga mat cabinets can keep your mat protected from any breaking elements and put it in your room neatly out of sight.
This way your space will be cleaner and more organized.
Cabinets made of steel or wood, in addition, you can control the volume of storage according to your need.
Display Rack
This is a cool and modern idea, by installing a rack on the wall and placing your mat on this shelf. It's a very good storage idea if you are running out of space.
You can follow the amazon link for different Mat Rack Ideas that can really help you.
Baskets
This is another good storage idea for you to keep your yoga mats with using a basket or carry bag.
It's also easily accessible at any time, so after each workout you can just throw your mat into the basket, or easily take it for the next exercise.
In addition, you have two options to either keep the basket on the floor, or hang it on a wall-mounted hook in your back door. Check out Amazon Cotton Rope Basket, a storage solution with a warm-touch MINTWood basket.
Box
Either a plastic or wooden box of different sizes that you can keep and store all your mats.
What Type of Yoga Mat is Best for Beginners?
For beginners, it is best to consider some qualities while choosing your next yoga mat such as:
Mat thickness, slip resistance, fiber wicking capabilities, sustainable and price. The following Yoga Mats are Best for Beginners:
* SKL Travel Yoga Mat | Best Travel Yoga Mat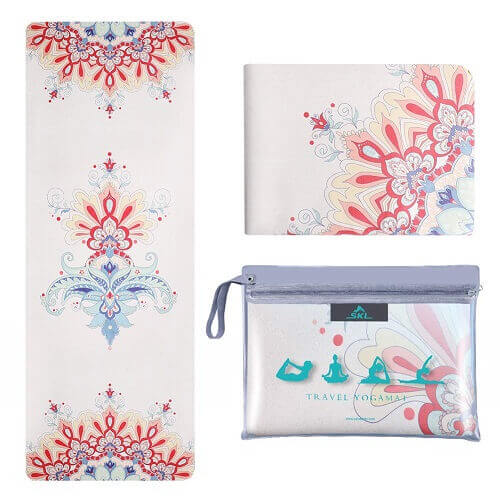 A 1/16 Inch thick Foldable Yoga Mat with Anti-Slip surface, made of premium natural rubber and suede material with eco-friendly yoga mat. 
The surface is made to absorb sweat or any liquid. It works great for all types of fitness and exercise.
It comes with a carry bag, so make it easy for travel or outdoor training, it measures 71″ long x 26″ width x 1/16″ thick and is lightweight with 2.5 lbs for easy portability.
Easy to clean and safe to use in the washing machine.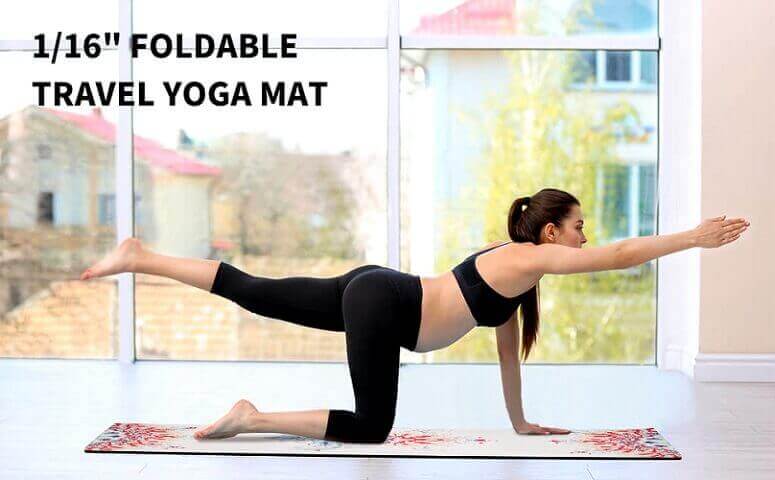 * Aurorae Synergy Yoga Mat | Best for Slippery People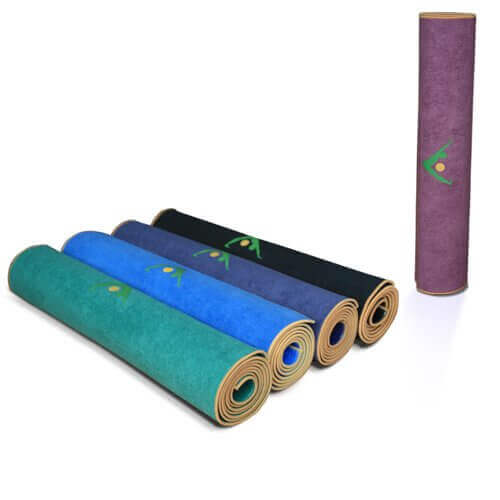 Unlike common rubber or PVC mats, the 5mm thick Aurorae Synergy Mat has a microfiber surface with 2-in-1, which serve  as a yoga mat and towel in one product.
It's a great choice for people who sweat excessively or slip a lot. 
This yoga mat is machine washable and easy to clean. The mat measures 72″L x 24″ W, plus it offers ultra width at a larger size.
* REEHUT Extra Thick High Density | Best Yoga Mat for Joint Pain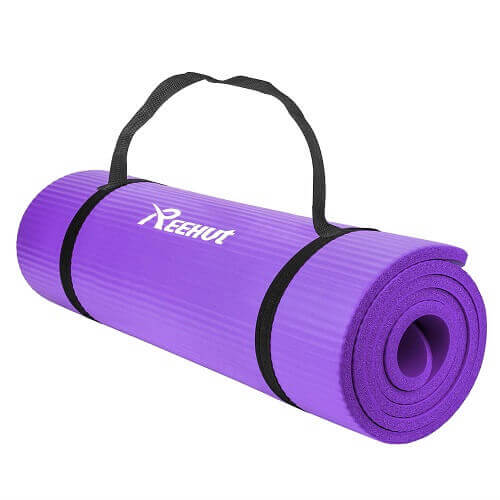 This 1/2″ Extra thick Yoga Mat, provides comfortable cushioning for your spine and the support you need if you're lying flat on your back or have any joint pain. 
Plus it has a carrying strap, so you don't have to worry about how to carry it in transit or even store it simply by hanging it behind a door hook. In addition, it has a non-slip surface feature.
 * Gaiam
| Best Over All Yoga Mat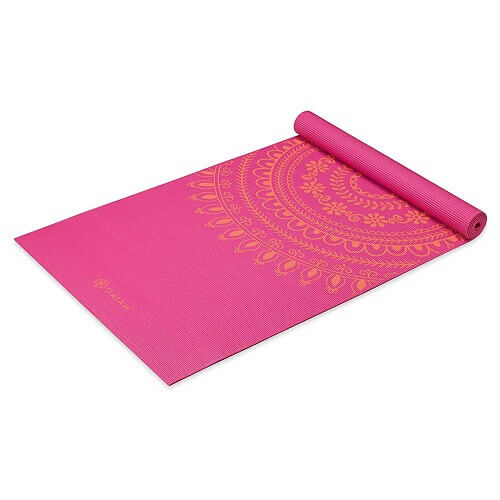 Best yoga mat ever. With so many premium options, this brand offers you unbeatable features over a yoga set.
Includes a 6mm diameter high quality printed reversible mat, with extra thickness of a non-slip surface, a mat suitable for all types of exercise and fitness, with enough floor area for your practice.
Mat Measure size 68 inches long x 24 inches wide x 6 mm thick.
Safe with 6P-free PVC and phthalate-free matting. In addition to their huge library of colorful and elegant designs that you can choose to suit you.