(Last Updated On: June 10, 2022)
Why is it necessary for serious bodybuilders to have a vertical dumbbell rack for home!
For people who exercise regularly, especially with dumbbell weights, they often encounter obstacles in storing them in the exercise area in a safe place, organizing them and at the same time they can start their exercises or warm up without delay, Consequently, the need for strong and sturdy equipment to organize all your dumbbells, at the same time does not occupy any space, you can easily achieve this by using the vertical dumbbell stand for home which is the most commonly used for individuals.
Keep in mind that if you own both dumbbells and kettlebells, you can still organize them into one vertical rack, but you'd prefer to use a different shape, which would be a hybrid, and usually use a horizontal dumbbell rack for home. 
Which contains multiple specialized layers for storing various shapes and types of dumbbells. We will discuss about this briefly and in separate section through this article.
"
O
n this page contains some sponsored links and advertisements with special deals
, As an Amazon Associate when use the links for a qualifying purchases I may get a small commission at no extra cost to you,
 and you may get a great bargain.
Read Full Disclosure

"
Dumbbell rack is a storage place dedicated to storing and organizing various types of fitness tools and dumbbells, and they come in various similar shapes such as, vertically, horizontally or trees, With different capacities, starting from 12 lbs. can go up to 1400 lbs., depending on the shapes, size and number of weights you own, specify the suitable rack and sufficient capacity required, and you can store it either horizontally or vertically.
In addition to using the rack, you can organize the dumbbells sequentially based on their weight, for easy access during your workout, and you can also save a lot of space if you use vertical dumbbell racks.
Below is a video explainer of the dumbbell rack.
Types of Dumbbell Racks for Home Gym
You can classify the types of dumbbell racks depending on the geometry, as they can each have different shapes that fall under the same major geometric categories, and here are the main types:
A very practical weight storage solution for those looking to save extra space at an affordable cost. But most such racks cannot hold as many dumbbells, and 12 pairs of dumbbells can reach the maximum.
But it can keep enough stability, but with very heavy weights and more than 10 pairs, it is better to use horizontal types of racks, which are the stability to bear huge load weights
It can mainly contain the following vertical shapes:
A-Frame: 
It is very common and often used, and it looks like the letter "A" where the pairs will be placed on either side of the rack.
Vertical Tower: 
It is fully vertical stand without tilting on both sides. Bearing weights on the side edges.
Wall Mounted Rack: 
It has one or two parallel vertical rack lines, and is fixed at the top on the wall. This is static rack that cannot be moved from one place to another once installed. But it will not be included in the list, since it's not practical.
Tree Rack Weights
Usually designed to store plates and not dumbbells, which have multiple poles holding the center of each plate.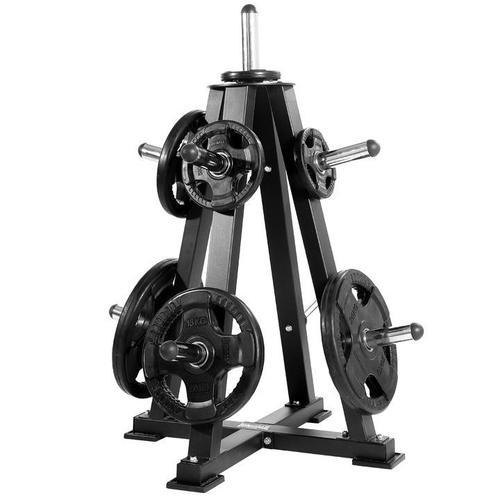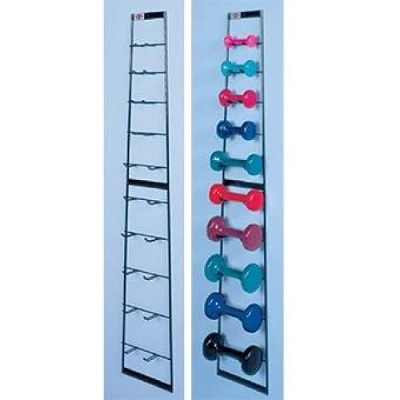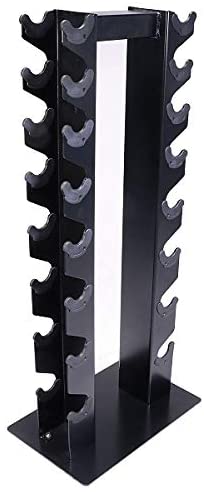 It has racks with different layers or tiers to hold pairs of dumbbells, the added advantage of this type is, it can carry a different type of dumbbells or kettlebell without a problem, Because the rack doesn't take a specific shape.
On the other hand, they can tend to be more expensive compared to vertical racks, and their size when installed does not save much space. 
But they are more sturdy and their ability to tolerate weights is much higher than other types.
The horizontal rack tends mostly to be used by professional weightlifters and gyms.
I highlight the main shapes, which will give you a better understanding of the different variations, but in this article I will mainly focus on vertical dumbbell racks.
Why are they better, because they are suited for home use, considering the space factor and practical use at a lower cost.
Comparison Between Best Vertical Dumbbell Rack for Home
++ : Product include additional shelf, tray or extra space.
6 Best Vertical Dumbbell Rack for Home
With the huge variety of shapes and models of dumbbell racks, searching for the right rack in the market becomes confusing and time consuming. 
So I've done the work for you and summarized the best dumbbell racks on the market, but you still need to read the guide at the end of the post, to filter your options and choose exactly what suits your needs.
Here are the best dumbbell racks for the home:
AKYEN A-Frame Stand Dumbbell Rack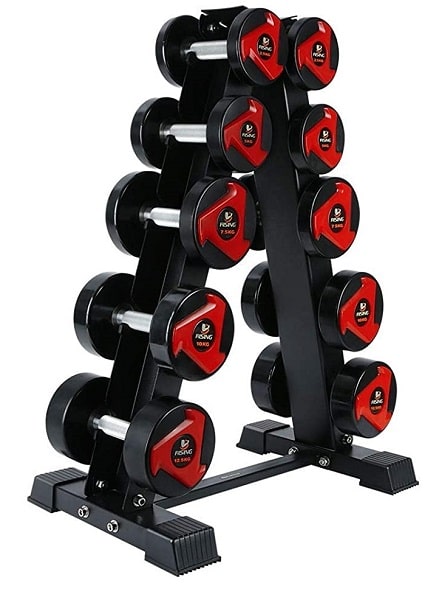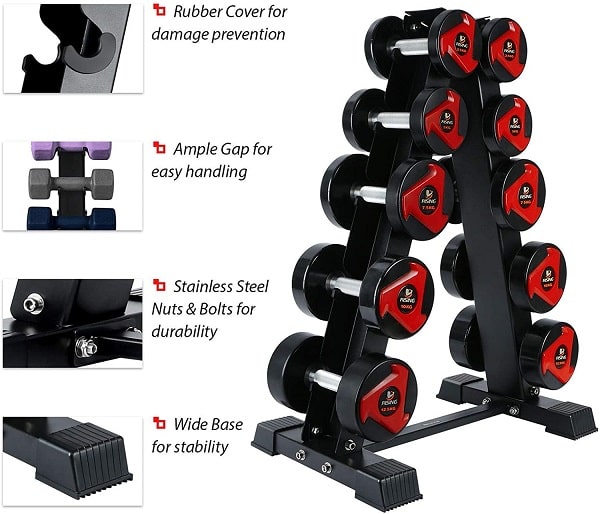 Akyen dumbbell rack stand is a convenient and smart choice, because the company has been designing fitness equipment for more than 30 years especially racks.
It is designed to hold 5 different pairs of either round or hexagonal dumbbells that can weigh between 1-100 pounds each slot with a maximum holding total capacity of 570 lbs.
Durable and stable made of heavy duty steel, and a durable long-lasting black powder coat with high performance.
The legs of the frame are made of rubber to avoid scratching the exercise floor area, and the slots for the dumbbells are constructed with rubber to prevent damage to the dumbbell handles.
With a width of 16.1 x 25.2 Length, you can save a lot of space by adding this device to the corner of your workout area without you noticing, while organizing all your dumbbells.
Easy to assemble rack which takes less than about 10 minutes, before starting your first workout.
You can check out the customer review for Akyen rack by clicking on the link.
Ayken A-Frame Rack Specification:
Rack weight: 27 lbs
Dimensions: 25.2 L x 16.1 W x 34.4 H inches
Material: Heavy-gauge Steel
Length between slots: 4.2 inches
Max Weight Capacity: 570 lbs
Pros
Effective space saver
High stability and sturdy
High capacity storage up to 570 lbs
Easy to assemble and install (watch video) 
The length between the slots gradually increases for a range of 5.9 to 7.1 inches start from the top of the rack to the end, to reserve more space for bigger weight every time you go into the bottom rack level.
Cons
Limited number of pairs up to 5 dumbbells
Updated: Another alternative to the AKYEN with an A-Frame shape is the Birostiana Dumbbell Stand with 6 Tiers of Weights and Dimensions: 23.5 x 18.25 x 41.5 inches. Both have almost similar features, the main differences being that Birostiana maximum weight capacity is lower at 440 lbs, but it's less expensive than an AKYEN rack.
Marcy DBR-56 Stand Compact Dumbbell Rack
Marcy DBR-56 rack is great option for compact dumbbell weights, for organizing different sizes of dumbbells and works well with circle, hex and cap dumbbells.
The Double-sided holes fit 4 pairs of dumbbells, plus 2 horizontal shelves at the top and bottom, which fit different types of weights.
It's constructed with a sturdy heavy-duty steel frame to secure weights with a maximum weight capacity of 400 lbs.
The structure is powder coated to withstand loads, with a brushed surface to resist scratches and protect weights.
The 8.25 inches slim design is a great choice to save a lot of free space.
Marcy DBR-56 Rack Specification:
Rack weight: 14 lbs
Dimensions: 27 L x 8.5 W x 21 H inches
Material: Heavy-Steel
Max Weight Capacity: 400 lbs
Pros
Save space with a slim design
Store shapes with different weights
Lightweight rack 
Cons
It can work with dumbbells up to 35 pounds or less. The reason is, when you take or return dumbbells that weigh more than 35 pounds, You will start hitting the other neighbor dumbbell plate that is on the rack.
It is difficult to be stable if maximum load capacity is reached, and some try to shake the rack.
Not suitable for very heavy weights.
The dumbbell handles should be at least 4 inches long to fit into the slots, but alternatively you can place them in the middle of the upper or lower shelf, as there are no size restrictions in this area.
CAP Dumbbell and Kettlebell Storage Rack
CAP compact rack is one example of the vertical tower, which is a great choice to store different weights, if you have mixed dumbbells, kettlebells, the reason is that it has additional steel trays above and below the rack.
These trays can fit several fitness equipment as well as jump bells, jump ropes, medicine balls or gloves, and you can store them all in one CAP rack.
Durable construction finishing with a powder coating made of solid steel, which can hold weights ranging from 3 to 35 lbs, The side rack holds total 4 pairs of dumbbells, and the maximum total weight of 300lbs.
With a CAP, you can still save space as it's 10 inches wide, and still have enough room for your biceps workouts.
Rubber trim is located on the slots and on the top and bottom edges of the rack to protect weights and floors from any damage and avoid any potential scratches.
CAP Rack Specification:
Dimensions: 20. 5 L x 10 W x 24 H inches
Material: Solid Steel
Length between slots: 5 inches 
Max Weight Capacity: 300 lbs
Pros
Space saver.
Ability to store dumbbells, kettlebell and other small fitness tools.
Cons
It can work with dumbbells between 3 up to 35 lbs.
The maximum capacity is no more than 300 lbs.
Dumbbell handles should not be less than 5 inches, in order to fit into the slots, but instead you can place them into the top and bottom rack steel trays.
It is a bit difficult to assemble and install the rack.
Amazon Basics Neoprene Coated Dumbbell with Storage
For beginners who are new or just starting to workout, they have a great option to start with new and lightweight Hex weights with free storage from Amazon Basics at low cost, it's the perfect deal!
The set contains 3 pairs of barbell dumbbells of different weights and a stand storage rack to save space – the three pairs (2lbs, 3lbs, 5lbs).
It has a secure grip and protects floors, cause it's made of neoprene coated rubber.
It's easy to assemble the storage weight and start your warm-up exercises.
Amazon Basics Specification:
Material: Durable plastic
Max Weight Capacity: 20 lbs
Pros
Great space saver
Included 3 pairs of neoprene dumbbells
Easy to assemble
low-price
Cons
The dumbbells and storage have decent quality comparison with the price.
The Rack is limited to lightweight dumbbells.
Deltech DF5200 8 Pair Vertical Dumbbell Rack
The Deltech DF 5200 vertical tower rack is a great storage organizer for your weights with 8 pairs. It is well constructed from durable and sturdy steel even with full load-bearing capacity.
It is suitable for both round and hexagonal dumbbell shapes, and are ideal for sizes from 5-40 lbs.
The surface is coated with a layer of robust powder to prevent any scratches on the shelf and to maintain its long-term sustainability.
The slots are covered with rubber to avoid damaging the dumbbells.
The 12 inch width of Deltech rack makes it a great space saving with its upright vertical shape.
Deltech DF 5200 Rack Specification:
Dimensions: 12 x 18 x 40 inches
Material: Solid Steel
Length between slots: 4-5 inches
Pros
Ideal for Space Saving.
Large storage to store 8 pair of dumbbells.
Durable and stable construction made of solid steel.
Cons
Not fit for neoprene or peloton dumbbells.
Dumbbells above 40 lbs are too big for this rack.
When storing oversize dumbbells, the spaces between the dumbbell slots become narrow, so that they can be difficult to remove and re-racked.
Bonus: Marcy 3 Tier Dumbbell Rack DBR-86
The Marcy DBR-86 is a heavy-duty steel construction with a sturdy frame to withstand heavyweight loads of up to 800 lbs.
You can easily store heavy weights of at least 8 pairs or more, depending on their sizes. You can still use Marcy to store 1-2 pairs of kettlebell based on the comment and experience of one of the customers.
It is strengthen with a coated powder, and features a durable structure that won't smudge easily even with the heaviest weights of different sizes. Its matte surface effectively resists scratches.
The dumbbell storage features a distinctive structure with a compact 3-tier storage space with an ergonomic shelf tilt angle design for easy access to the dumbbells.
It provides a rubber grip on the feet to protect the floor surface from scratches, while preventing the rack from slipping by absorbing any sudden shock.
Marcy 3 tier Rack Specification:
Rack weight: 54.5 lbs
Dimensions: 37 L x 24.5 W x 32 H inches
Material: Solid Steel
Length between slots: 4.5 inches
Max Weight Capacity: 800 lbs
Pros
Its maximum capacity is as high as 800 lbs.
Bear and can store pairs of heavy weight as 85 lbs.
Sturdy and stable structure even with full usability capacity.
Rubber feet to absorb and reduce weights vibration.
Easy access to dumbbells with angled design rails.
Cons
Not fit for peloton dumbbells.
Ineffective in saving space, which requires some space for rack size.
A Guide to Choosing the Best Dumbbell Rack for the Home Gym (5 Tips)
There are various criteria to consider when searching for the best dumbbell rack to regulate your weights, which matches your needs.
Sometimes it is not necessary to buy a dumbbell stand, the following guide will go through these steps for choosing a dumbbell stand for your home gym:
How much budget do you want to invest in purchasing a dumbbell rack, which I think is the most important factor that will determine everything later.
A dumbbell rack for the home can cost in a price range between $18 and $500, and I found for under $50 you will sacrifice the good quality, for around $90 and up, you can start finding quality rack products.
Rack size plays a role in determining enough size to match your pairs of weights. It also specifies the number of tiers or slots required.
Also, the look you are looking for, some prefer the vertical form with the stand or the shape of the A-frame, or with horizontal layers, it all depends on your taste and how practical the final shape have to be.
It is not always necessary to buy a dumbbell stand for home if you have for example only two pairs, you can organize them in the workout corner and save expenses.
But if you find your exercise area cluttered and disorganized, then you can decide at the time to find a rack that works for you.
The types of dumbbells that you own are essential for determining the appropriate rack, and the reason some slots or shelfs do not fit, for example, neoprene dumbbells, so you should consider that.
It is also important to determine the length of the dumbbell handles, since most racks have a certain minimum distance between the slots, which are not proportional to or less than their length.
Another point that you need to consider is the size of the weights, some racks do not fit certain sizes such as those over 30lbs, while others can allow up to 80 lbs.
So it overall depends on the rack specifications. Ultimately this will affects the sturdy and stability of the rack.
While some have plenty of workout space in their garage, others just don't have enough space in their rooms.
Usually if you have limited space and plan to own the efficient rack volume, the best option would be vertical rack shapes, which do not take up much of your place, It provides you with an effective space to practice your exercises comfortably.
With heavy weights, it is wise to find a heavy duty steel material, to keep the rack sturdy and stable while carrying the weights.
Powder coated is a great choice to provide extra strength and protecting rack and weights from scratches.
It is also best to have rubber on the slots to avoid damaging the dumbbells.
The rubber on the feet of the rack is a great idea to achieve extra stability, absorb shaking and avoid the floor from scratching.
Having explained it to you in detail through the guide of what you need and focusing on the specifications of the racks, I believe that you are now very familiar with the various features and may begin to build an idea for the next ideal dumbbell rack to organize your current workout area, so that next time you can just focus on your workout in peace.
Another additional tip to help you decide which rack is best for you, if you have space restrictions with up to 5 pairs, the best option is to go with Ayken Rack plus it is easy to assemble and install.
If space doesn't matter to you and you need super durability, and you own up to 10-11 pairs with different heavy weights either dumbbells or kettlebells, the smart choice to go with Marcy 3 Tier Rack, it offers what you need excitingly.