Want to build some muscles with easy quick steps and keep your body fit and toned? Wish to begin your exercise routine but never find the time to go to the gym? Don't Worry any more, as your fitness goals can be achieved via an at-home workout routine. Here's where the reliancer adjustable hydraulic power twister comes into play. 
Some routines do not require any special equipment.  However, building chest muscles, biceps, triceps, and toning the upper body requires designated equipment. And to be more precise; there is nothing better than the use of a reliancer adjustable hydraulic power twister arm exerciser.
The reliancer adjustable twister equipment is one of the most popular and highly recommended hydraulic power twisters on the market, the good thing that it can be use as alternative smart tool for dumbbells in case not available or cannot be found in the market.
"
O
n this page contains some sponsored links and advertisements with special deals
, As an Amazon Associate when use the links for a qualifying purchases I may get a small commission at no extra cost to you, 
and you may get a great bargain.
Read Full Disclosure
"
So, let's have a look at its features, pros, and cons and determine whether it is truly worth the hype or not in below review:
Reliancer Hydraulic Power Twister S
pecification
Resistance Type: Hydraulic Cylinder (Not Weight, Nor Cravity)
Resistance Strength: 2 – 20 Levels
Different Forces Ranges: 22 lbs – 440 lbs
Tool Shape: Triangle Structure for stability and more tolerance capacity during workout
Weight: 5.4 Pounds (2.45 KG)
Dimensions: 17.13 x 6.5 x 1.77 inches
Made of: High-density double Carbon Steel
Safety: High (Their is no actual weight in case drop different like dumbbells)
Handles: Comfortable grip with special anti-slip texture design
Endurance Test: Passed with 100,000 endurance tests
Building Strength Muscle: Wrists, Arms, Shoulders, Chest and Back
Reliancer Adjustable Hydraulic Power Twister Product Features Review
The hydraulic twister comes with adjustable resistance. This means that one can alter the resistance that the twister will offer. Start with a lesser amount of resistance and increase it gradually as you get used to it, and while you gain more strength. 
There are twenty different levels to choose from with resistance value ranging from twenty-two to four hundred and forty pounds. Adjusting the intensity is very simple, as well. 
All that needs to be done is to rotate the knob in the respective direction, and the resistance will be altered as desired.
So after a while, in case your strength level increases, you don't need to buy new one to increase weight, just required to adjust the resistance level for a new challenge and your ready to go for a new workout level.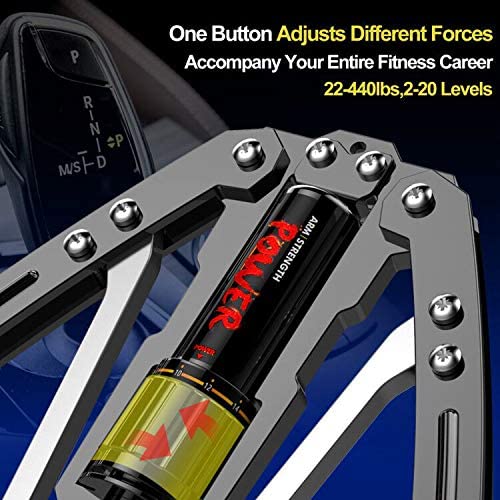 Superior Mechanical Functionality
In the case of a spring power twister, there are two springs at the end of the pole. The handles attached to the poles are tugged, which leads to the arm routine like biceps workout. 
The springs are rigid; therefore, some effort is required to pull them downwards. The spring-based twisters are less efficient as compared to the hydraulic ones. 
The hydraulic power twisters are adjustable and far more comfortable to use. They do not put unnecessary stress on the body, moreover, it's designed to control maximum transmission power to your muscle during exercise motions. 
Plus, a hydraulic power twister is far more durable as there is no spring involved that can lose the elasticity over time.
No-Risk Of Injuries
In addition the safety of this machine can result less risk of serious injury, in case you drop it. Actually it will not be heavy similar like normal dumbbells with actual weight, cause here we talk about resistance hydraulic mechanism during workout not real weight, so this will change your mindset of workout and make it easy to adopt in your routine. 
Durability And Reliability
Since the reliancer adjustable twister does not make use of springs, therefore it is far more durable and reliable. The hydraulic system does not lose its resistance over time. Also, since the hydraulic cylinder is enclosed, consequently, it does not go through any damage. 
The structure and placement of the components like the hydraulic cylinder and arms etc. are also planned in a way that helps retain their function properly even after thorough and prolonged use. 
Double Carbon Steel Manufacturing
Since the adjustable hydraulic twister is made from high-quality double carbon steel, therefore, you will never have to worry about the equipment breaking. The power twister has been tested and has successfully cleared around one hundred thousand endurance tests.
There is no doubt about the fact that this twister will last you for years without any trouble.
Comfortable Grip
The handles are smooth and offer a comfortable grip. One can hold the handles properly without the risk of any slip. But at the same time, the texture of the grip is comfortable so that the hands do not get sore or experience any cuts, during workout of different muscles. 
The grip is also covered with a protective layer so that it can resist any tear due to use.
Portable And Compact
Even though the adjustable hydraulic power twister is such a clever piece of equipment, it is very compact and portable. 
Carry it around whenever needed and also you can exercise in your office, and on outdoor or traveling somewhere. The portable nature of the twister ensures that you never have to miss out on a workout session anymore!
Guaranteed Results
Use the reliancer hydraulic power twister to workout regularly, and you will soon start seeing visible differences in your form and fitness.
The power twister is very efficient and will deliver the results you want to see. 
There are different people who start a 30 days experience test with equipment and find great results on upper body muscle and traps, and the idea of fast and easy to use, make them keep workout on their daily life routine.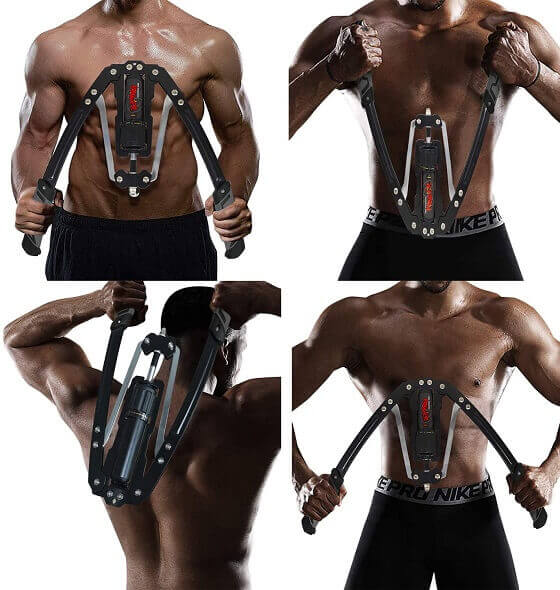 Workouts for 

Different Muscles

In One single tool using reliancer adjustable resistance you can perform different strength muscles for upper body workout, that target Biceps, Triceps, Wrists, Forearms, Chest, Shoulders and your Back.

So you don't need every time to change the equipment to exercise different muscle, you can do that easily with reliancer tool only to increase your strength.
No Need to Buy Additional Weight
The wide range of reliancer adjustable resistance available within one equipment, permits you to switch between different weights level, so you can easily be embedded within your daily exercises and cover you during all workout period programs, and while you gain more strength, simply you need just to increase resistance.
This feature is not available with traditional fitness equipment like barbells and dumbbells, so each time you need to buy more weights that work better for you and align with your increased power strength.
Easy To Use
The reliancer adjustable hydraulic power twister is an effortless and essential piece of equipment. You do not have to go through sophisticated training to be able to learn how to use it. All you need to do is to pull down on the arm handles, and that's all.
Adjust the resistance according to your level of comfort and expertise and repeat a couple of sets every day. See, it is as simple as it gets.
Pros
Durable and reliable equipment. 

It is made of high-quality carbon steel.

Potable, that can be easily carried around and traveled with. 

Safe, with No risk of injury at all. 

Adjustable resistance. 

A comfortable grip that does not strain the hands. 

Suitable for different muscle workouts.

Easy to use.
Cons
The resistance knob is a bit rigid, so turning it is hard. 

The hydraulics tend to lose pressure after a while after long term. 

The equipment is a bit heavy, which makes it difficult to carry around. 
Exercises using
Hydraulic Power Twister
With the adjustable Power Twister, you can perform many exercises that can hit and work on different muscles of the body, such as arms, shoulders, chest and back.
The following image, will illustrate some of the movements that can be made with a power twister tool.
7 Days Power Twister Workout Schedule
In order to use the power twister tool effectively, you need to follow a specific exercise schedule, which will enable you to achieve your goal of strengthening the upper and middle muscles of the body.
I designed the following suggested 7-day workout plan, in which you can hit all 4 major muscles. Once the week is over, the following week, you can increase either the number of repetitions or the time each reps you spends, this way you will go on the path of building muscle mass.
In addition, there is another alternative method, as I suggest in the image below, on days 5, 6 and 7, you can increase the resistance of the tool (keep the repetition and time the same) which will force your muscles to work harder and increase the muscles power and strength.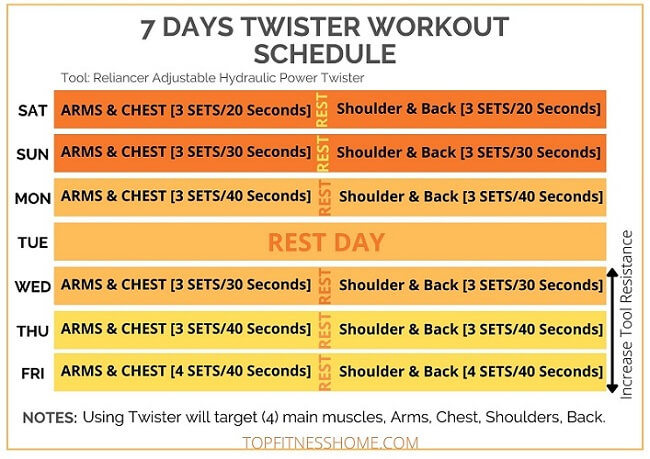 The best thing about the reliancer power twister is the fact that it is safe to use. Unlike the spring-based power twisters, which can cause severe injuries and also deteriorate over time because of stress on the spring, the reliancer adjustable power twister is a hydraulic based twister.
All in all, you can check the availability of the reliancer adjustable hydraulic power twister on Amazon, which is an excellent piece of equipment for all the workout enthusiasts. It is easy to use, simple to set up, and one you can see visible results within a few weeks of continuous use.
The hydraulic cylinder is enclosed and sealed properly, and there is no risk of any injury.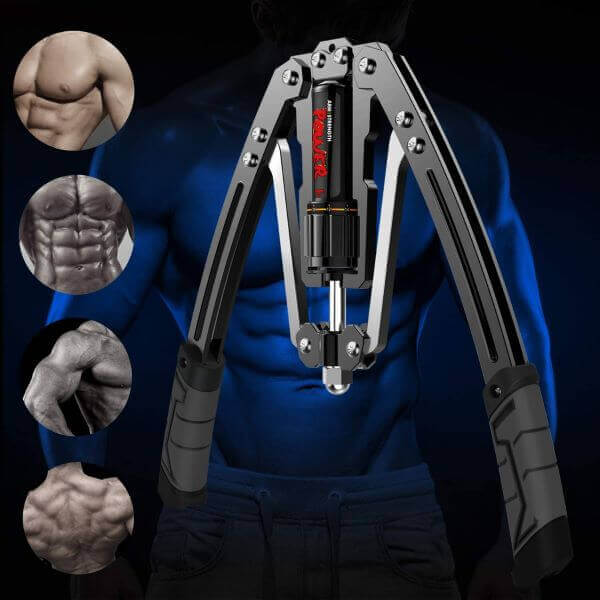 Another significant aspect of the adjustable hydraulic power is the fact that it comes with flexible resistance limits. You can easily increase or decrease the limits based on your needs. 
Start small and gradually increase the resistance as you become more confident. This feature makes it a perfect choice for newbies as well as experts. 
Although the equipment is small and can be carried around, it is a bit heavy, "but this will help you on the muscle exercise" as one user review mentioned on Amazon. But overall, the pros of the reliancer adjustable hydraulic power outweigh its cons.