The main purpose of a wrist wrap is to extend support to the wrist joint while lifting a heavy weights either pressing workouts or overhead lifting. During these exercises, the wrist can be exposure into extreme pressure under routine load, and can lead into either failing lift or possible injury. To maximize your safety and adding support to your wrist, will discuss a comparison review between SBD Wrist Wraps VS Gangsta Wraps to discover their features, sizes and colors, and which is better for you to use.
If your beginner just started, passionate or serious about powerlifting, it's essential to secure and support your wrist and arms while workout from any possible injury, because such exercises will lead to a big chance of risk to slip or wrong move, that could cost you much more than just a wrap.
In General their are many types of wrist wraps on the market, and here in this in-depth article will focus on most commonly used and attractive to powerlifters, the SBD and Gangsta Wrist Wraps, in addition will mention an overview of the other wrist wraps similar like Inzer, Slingshot, Powerbelly and A7.
---
Comparison Between SBD Wrist Wraps VS Gangsta Wraps
As a start, the variety uses of Wrist Wrap makes it more attractive, since it cover a wide range workouts similar like Crossfit, Powerlifting, Deadlift and Competitive Athlete. There is multi dimension for comparison between SBD & Gangsta wrist wraps, following will explain on details.
Choosing the best wrist wraps and to pick the top suitable for you and it's secret recipe behind it, lies mainly on the following categories:
Wrap Stiffness and Flexibility
The Suitable Size for You
Velcro if it's tight or loosen
Availability of Thumb Loop and it's Design
Material and Made of
And for sure the Quality
The Versatile of Use.
Durable and Heavy Duty
Will discuss each of these categories when comparing both wraps.
SBD Wrist Wraps
SBD a durable wrap for powerlifters and strongmen, designed for maximum training efforts and competition use, while easy to manage self-wrapping.
Made with wide elastics design of (8 cm) width for full wrist support and maximum length up to (100 cm), with IPF approved "International Power lifting Federation".
SBD Wrap Comes with 3 sizes, Small (40 cm), Medium (60 cm) and Large (100 cm).
SBD design a robust thumb loop to tolerate a heavy training, with a left and right design to fit and add a symmetric wrist wrapping.
As an option, you can select the wrap flexibility type that's suitable for you to exercise, either Flexible or Stiffer.
The standard available color are red wrap, and you can distinguish the flexibility, with a black trim lines on the wrap sides in case flexible type, for stiffer it's fully red color with out black lines.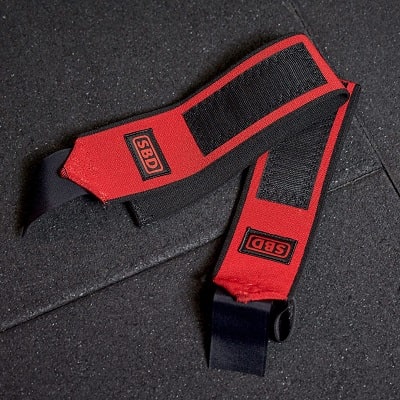 Pros
Wide wrist width with (8 cm) and maximum (100 cm) length for highest wrist support
IPF Approved
Durable thump loop
Easy to differentiate the wrap flexibility
Right & Left arm design
Available in three Sizes
Great Quality
Cons
The strip compress, provides impression of strong fabric without stretch "User Review"
SBD Wrap "stiff type" tends to ridiculously stiff "User Review"
Thumb loop is a bit short
Velcro of Stiff SBDS on 100 cm is sort of poor! You don't feel secure at all" "User Review"
Gangsta Wrist Wraps
Gangsta Wrist Wraps a quality product from Mark Bell, designed to protect and provide extra support to your wrist while building muscle strength, whether your expert power-lifting on the field, Crossfit, Deadlift or Bodybuilders.
These Wraps boost a stiffer, with a durable material for arm prop and wrist compression, you can use a stiffer wrap or moderate around your wrist, depends on the nature of your exercise. Stiff wrap can be for heavy squat and moderate for medium lifting similar like biceps workouts.
The thumb loop with double flat stitches attached at end of wrap, extend extra stability during your practice, by maintaining wrap on it's place without motion to insure exercise performed well without wrong motion that could harm your hand. This allows wraps to be used in different variations and for varies workout with the required safety you need.
Gangsta made from Level 3 elastic of dependable elasticity with highly compression polyester.
Moreover, the wrist wrap is authorized and officially IPF Approved .
Different Sizes of Gangsta Wraps 20 vs 36
Mainly there is two different length size of gangsta wrap, either 20 inches (Mini Gangsta) or of 36 inches (Standard Gangsta).
The idea of different sizes to provide either more stiffness or flexibility motion on the wrist, this depends on usual exercise you plan to perform.
What actually happens, that for long wrap with 36″ you can loop the velcro strap round your wrist for a round 3 times, which will limit the motion of your wrist to the minimum and provide you the highest stiffness, while for short wrap of 20″ you can make one wrap around your wrist, that will provide more flexibility for the wrist.
This mean 20″ is great for lifting, push-ups with more flexibility, whereas 36″ suitable for bunching, heavy squatting or joint heavy exercises where you need enough stiffness.
You can check Gangsta Wrap offer on Rogue Fitness, by click on below button:

Pros
Approved from IPF
Can be used for varieties of arm exercises
Versatile, that can be used for wrist, knee and elbows for support, cause of unique flexible design of thumb loop.
Thumb loop with double stitches
Level 3 elastic wrap
Quality is great, very solid and stand out well over the time, after use +8 months of heavy duty  "User Review"
Thumb loop design is unique if you compared to other wraps "User Review"
Cons
Available only in two sizes 20″ and 36″ Length
The flexibility either stiffness or flexible, doesn't come as an option type of the same length wrist. If you need stiffness you need to have 36″, the 20″ is flexible.
How to Wrap SBD Wrist Wrap?
The wrapping is easy, but in general there is two ways to do that in a secure result, either using thumb loop or not.
But before that, as we explain the SBD comes in left and right side, so insure you pick the correct side while using. In case we want to wrap the left hand:
Using Thumb Loop: First add your thumb through the loop, then start wrapping to the right side around your wrist, in this way the thumb loop will come across your palm, while you start the first wrap insure it covers above your wrist with (2-3) cm, and the second round wrap insure to be below your wrist with 10 cm, once you finish wrapping attach the end of velcro.
Without Thumb Loop:  Start by place the top point of the thumb loop towards your wrist and align to it, then start wrapping normally above the thumb loop with the same above steps of using thumb loop, in this way, your hiding the loop away from your palm. Some people use this style while practice to keep their palms free, so it depends on you. If your just beginner i advice to use the loop on your thumb.
You can know that your wrap is correctly placed, by test it by yourself and try you move your wrist forward or backward, if you feel suitable stiffness means your ready to start your exercise, else, you need to un-lock the wrap and try again to wrap by raise a bit the wrap above your wrist.
In addition you can check the below demonstrate video for the instructions of how to wrap SBD wrist wrap:
How to Wrap Gangsta Wrist Wrap?
The Gangsta wrapping is supper easy, the difference than SBD in the thumb loop design and their is no left and right side wrap to manage, also it's versatile to be used in different joints places like your knees and elbows, make wrap more effective and attractive.
Start by place the thumb loop on your entire thumb, then pull the velcro tight and start wrapping towards other hand side by first cross it with your palm, insure to cover a bit above your wrist on the first wrap, and on second wrap cover below the wrist, then continue wrapping once finish, attach and secure the end of velcro.
Additional Resource video (3.5 minutes long) of comparing the two wrist wraps Gangsta and SBD:
FAQ
What size you should consider in Wrist Wrap that's Suitable to You?
To understand the differences and choices that best suitable to you, by checking the following short guidance.
First it depends on the nature of exercises your planning to practice and which you try focus on, and your expertise level, so meaning if your plan for heavy powerlifers and weightlifter your need to go with stiffer type or long size to provide the support you need in your exercises. If your just started and looking for basic training, better to pick the short size or 20″, it will be sufficient and suitable.
In case for a serious lifter, it's totally recommend for stiffer or long size with 30″, the longer the bulkier will be, but it will provide the support you need.
The versatile matter also, so if your planning to practice and use the wrist wrap for different places other than your wrist, like knees or elbows, you need to pick the long size with 30″ of Gangsta, cause SBD cannot provide the versatile, and are designed only for wrist support.
What Material to Consider for Wrist Wraps?
In general it's crucial to be aware that the material used for wrist wrap makes a big difference, so for some certain brands type the wraps are made from 100% cotton. Founds that based on different experiment and user practice experience that such types are too flimsy and in short time become un-supportive while training.
Using a combination of elastic, polyester and cotton (if exists, not more than 50%), will provide a great supportive for your joints as well absorbs the excess wet and avoid Itchy skin.
Other Different Brands of Wrists Wraps
SBD Eclipse Wrist Wraps
The SBD ECLIPSE EDITION product released in Winter 2019 as new product line.
It's same properties, features and design of classic SBD, but the main difference is the color of Eclipse are in white and black instead of red on classic.
Stiffer Eclipse Wraps type are in Black, While Flexible Wraps type made in White.
Another difference that the Eclipse come with a round 15% higher price than the classic SBD.
Inzer Wrist Wraps
The Inzer provide Atomic Wrist Wraps with a patented design to increase it's performance.
Stiff wrap with Quad-Track spun compression-rubber patent, to support the wrist.
While training the exclusive wrap act as one solid unit.
Wrapping fast.
Have IPF Approval
Available with two sizes 20″ (Medium) and 36″ (Large)
# Founds that there is not specialty advantage for the wrap except the patent they claim, but their is no efficient user reviews or demand on this wrap.
Slingshot Wrist Wraps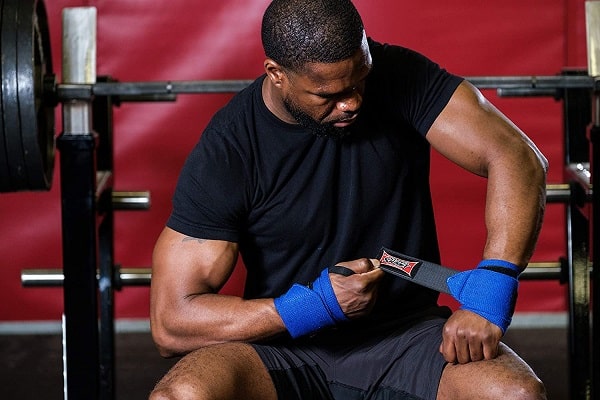 Another Mark Bell wrist wrap design, with a versatile use for almost all body joints parts.
I'ts very much similar character, features and price of Gangsta wraps, only the design is different and the following points:
Maintain comfort and pain relief through your exercise, with level 2 stiffness elastic
Available in two colors including Blue and Pink
There are four sizes, 20″, 26″, 36″ and 42″ lengths
All wraps lengths IPF Approved except the 42″ size
# I found that the quality of Slingshot is less than Gangsta Wrap, based on research and different verifying customer reviews, one of actual user reviews of slingshot:
"These are honestly the most supportive wraps I've ever purchased. However after a month of use they are worn down more than my 10 dollar wraps were after two years. It's not the same quality as the amazing slingshot. I will try the gangstas next time" link to this review on amazon.
Powerbelly Wrist Wraps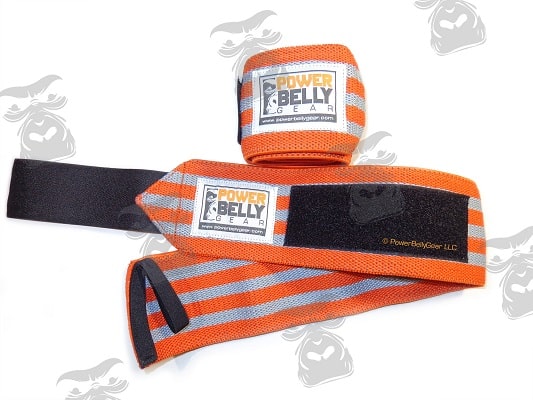 The wraps made from a quality materials with a soft feel of comfort and a strength bench with a 900 lb.
The expanded Velcro strap design with secure loop for max support.
Available in two colors including Orange and Purple
There are four sizes, 12″, 18″, 24″ and 36″ lengths
# A normal wrap with out enough detail info or user experience as Inzer wrap.
A7 Wrist Wraps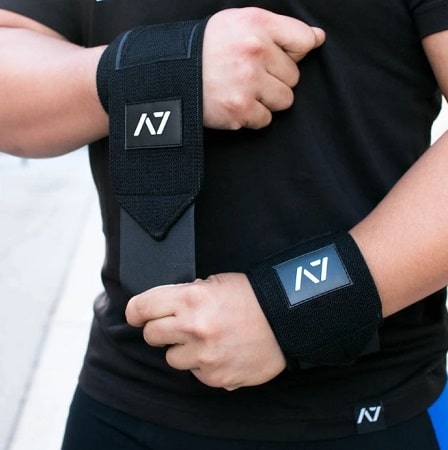 The A7 suitable for benching and squatting exercises, design with two thumb loops feature on the two sides of wrist wraps, so you don't have to worry in which way to use them while wrapping.
A7 have 3 different sizes: 55 cm, 77 cm and 99 cm. The A7 wraps Approved by IPF.
# The double thumb loop does not provide a big difference value for exercise and use, cause whats matter most for the wrap it's quality, multi-purpose and endurance ability over period, which is not clear on A7 wraps users.
Conclusion
As we go through on details review with comparison between most common wrist wraps on market the SBD Wrist Wraps VS Gangsta Wraps, in addition we explain an overview of other wrist wraps exists, It shows clearly that SBD and Gangsta both have a great features overall to compete other wraps, with IPF official lifting approval and most demanding market than other ones.
If your searching for quality product SBD Wrist Wraps will be a good choice, except it's velcro will not last for long.
On the other side based on research and verifying a multi customer reviews the Gangsta wraps shows more practical and can bear a heavy duty use, with versatile use on a different joints in your body, and if you feel that you don't need a stiffer feature on your exercises, it's better to use the short length of 20″ to avoid the bulky wrap and more quick to wrap.
But certainly Gangsta Wrist Wraps (on Rogue Fitness) can fulfill your purpose while training with the support, endurance and heavy duty you need.