(Last Updated On: July 14, 2023)
If you are planning to start a home gym to make your fitness journey more convenient, enable daily training, and easy to follow, and have not yet invested in one of the best wall mounted cable pulleys for a small home gym, then you are missing out on a basic training piece.
The thing about wall mounted pulley weight system is that they can be highly versatile. You can use it for many different exercises targeting lower and upper body muscle groups. All you have to do is a simple search and let your creativity flow in the number of exercises you can do using it.
Does your chests muscle need a little extra work? They've got your back. What about your arms (biceps, forearms and triceps)? Don't Worry. The wall-mounted cable pulley is available for you. Certain cables systems such as pulley towers, can be used in leg exercises to strengthen your quads, hamstrings, and calves. You can incorporate them into your squats.
You can also work the latissimus dorsi muscles that is located in your back using the cable system, which starts from level under the shoulder blades, goes down to the lower back, and is responsible for pulling objects, extension, adduction of shoulder joints, as well as lateral flexion of the lumbar spine. It is an essential muscle that you must train and focus on, to gain large muscles such as the hindwings using the cable pulley machine.
All of this means that wall-mounted cable pulleys are one of the best investments in health and building muscles you can ever make. So if you don't have one, you need to get one now!
Here are the four best wall mounted cable pulleys for a small home gym:
"On this page contains some sponsored links with special deals, As an Amazon Associate when use the links for a qualifying purchases I may get a small commission at no extra cost to you, and you may get a great bargain. Read Full Disclosure"
Here is a quick comparison chart to help you take a quick look at the best cable pulleys for your home:
| Product | Weight (Pounds)  | Dimensions (Inch) | Max Weight Capacity | Our Rating |
| --- | --- | --- | --- | --- |
| Mikolo Pulley Pull and Lift Cable System | 6 lbs | 16.3 x 5.59 x 4.84 inches | 280 lbs | 9.4 |
| Antelife Fitness Pull and Lift Pulley System | 12 lbs | 31 x 7.8 x 4.5 inches | 400 lbs | 9.3 |
| Yes4All Deluxe Pull Cable System | 5 lbs | 14.49 x 5.16 x 4.53 inches | 200 lbs | 8.8 |
| Valor Fitness BD-62 Wall Mount Cable Station | 62 lbs | 80 x 5 x 4 inches | 200 lbs | 9.7 |
While searching and reviewing on the best suitable wall mount pulley, I did not find a machine that has worthy, reasonable and have good features that would be enough to include in the list and own it, I only found one Volar Fitness, I will talk about it below in the post.
Plus, most of wall-mounted are considered to be quite pricey and heavy weight, so I thought of an alternative idea to get the same training result and as you need, and for a budgeted cost!
So based on that, and since As most of the cable pulley system on the market is not wall-mounted, which only need to hang or fix the cable on the bar, They perform almost the same as the target muscles, Also save space as you need.
So I chose the top 3 most commonly used hanging cable pulley, but in addition, you need to get only the wall mount bracket piece separately "Which would probably still save 70% instead of having a fully wall-mounted cable pulley system", this will transform the device directly into a wall mount cable pulley, the process as simple as that.
Now let's get into the details of each of these machines, the differences, the value of the features, and the pros and cons.
Best Wall Mounted Cable Pulley For Small Home Gym
Mikolo Pulley Pull and Lift Cable System
Easy to Install
The Mikolo Mounted Cable pulley System is extremely easy to install and is one of the simplest and most convenient cable pulleys we have come across.
All you have to do is find a place at home to install it, That's it. Simply mount it up, attach the handles, put on some weights, and start getting muscles gains. In addition, its small size makes it super easy and convenient to carry around as well.
You can even try traveling with this device and install it in hotel rooms, it works like a charm.
You need to get the wall mount bracket separately, if you want to mount it to the wall.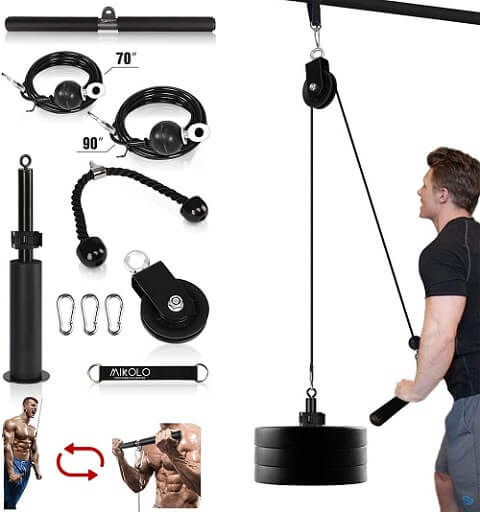 Adjustability and Durability
The pulley system is 360° rotatable degrees, which increasing its convenience. And not only that, its spin is exceptionally smooth and silent, unlike some other wall-mounted cable pulleys we've come across.
Heavy steel construction materials. This ensures that it does not lose its position during intense and heavyweight workouts. That is, the wall-mounted pulley is very stable when it comes to massive exercises. Honestly, we couldn't ask for more.
As far as durability is concerned, we are surprised to note that the wall-mounted cable pulley is very sturdy. It can lift heavy weights easily without much wear or tear, the pulley does not start to make creaking sounds during heavy weight training, and it keeps its shape well.
Moreover, you can adjust the pulley system to perform both pulldown and lift up workouts.
The wires are made of high-strength PP material, and the anti-break and anti-sway resistant design lets you worry less about positioning the pulley's and focus more about your workouts.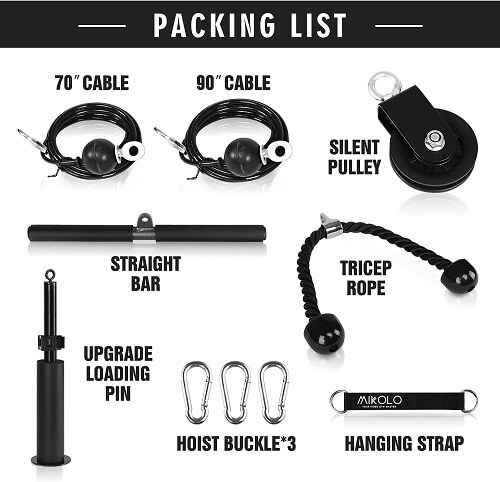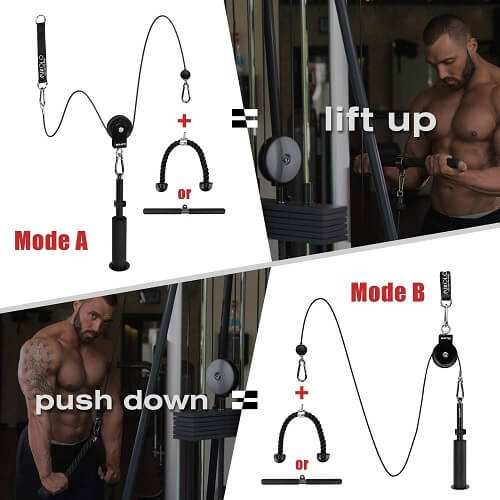 Upgraded Loading Pin
The upgraded loading pin can withstand a maximum weight of about 280 lbs, which is quite sufficient for a good workout. If 280 lbs is too little for you, you can always make your workouts more challenging by locking in specific muscles and joints, increasing repetitions, or focusing on the weakness muscles. Trust us it works like a wonder, especially when you focus on the weakness part.
The loading pin comes with a barbell clip and a detachable extended loading pin to fit Olympic and Standard weight plates.
Includes two a triceps rope 70 and 90 inch, a straight bar, and three carabiners
Suitable for Biceps, Triceps and Lats workout
Extremely easy to assemble and super convenient
Anti-slip safety, sturdy and durable
8 feet rope cable, can be long for some people
Mikolo Cable System in Brief
Easy to install, with 360° rotatable pulley, Steel construction, lift up & pull down exercises, Upgraded pin to load 240 lbs.
Antelife Fitness Pull and Lift Pulley System
Assembly
While general assembly is relatively easy, requiring you to find a place to mount it and to pass the rope through the center hole of the counterweight plates, it can still seem a little tricky.
What confuses people about this is the length adjustable. You will have to maneuver around several locks and U-shaped pins to adjust the length to your desired height. It may seem a little gruesome, and it may be at first impression. But once you learn how to hover around it, things shouldn't take long time at all.
To help you with your initial learning curve of installing pins and adjusting the length, the package comes with an easy-to-follow step-by-step guide with a pretty photos to help you along.
You need to get the wall mount bracket separately, if you want to mount it to the wall, to be converted to wall mounted single cable pulley machine. However, it's better to Install a hook in the ceiling rail, or hang it from a rafter in the garage.
Versatility
While the best wall-mounted cable pulleys for small home gyms are incredibly versatile, we think this one here tops them all.
The fact that can have two methods of functional exercise pull-down and lift, and that you can adjust its weight according to your needs, opens up a whole new range of exercises you can do. Plus, comes with a 30 inch pull-down curl bar that you can workouts for Lat pulldowns or lift up for your biceps, and adjustable cable for back rows, with 360° swivel pulley, that we think is super cool.
Also, it comes with two heavy-duty exercise handles, and this inclusion just takes upper body workouts to a whole new level. It's an almost complete gym, conveniently assembled into a simple and intuitive wall-mounted pulley system.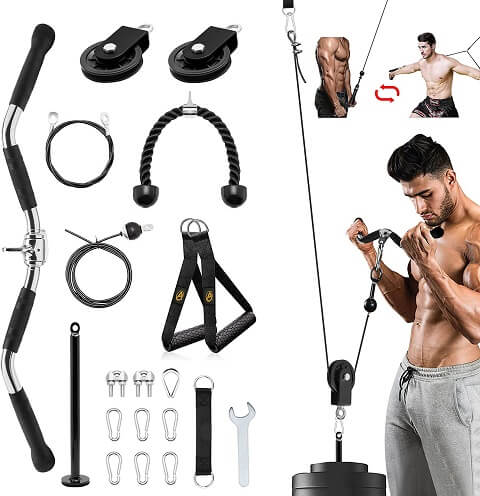 Materials
The construction material consists mainly of heavy-duty steel which we believe is sufficient to improve the stability of the pulley 2 times.
The heavy-duty steel also ensures that you don't make any noise during your workouts. The only noise you'll hear will be your effort. Finally, the high-strength 40-inch and 80-inch sheathed cables make them even more durable than they already are; In general, we can say that it is a very beautiful combination of materials and build of sufficient quality.
Durable
Extremely versatile
Adjustable length
The cable may not bear much heavy weight
Adjusting lengths is not easy and requires more efforts the first time
Antelife Fitness Cable System in Brief
Tricky to assemble 1st time, high versatility, solid construction, 360° swivel pulley, lift up & pull down workouts and adjustable cable length.
Yes4All Deluxe Pull Cable System
Triceps focused
This one here is a little different from the other wall-mounted cable pulley. It does not provide you with versatility, but it motivates you to focus on only one group of your arm muscles: the pulldown for posterior arm muscles, Triceps.
The package includes only a triceps rope amongst the pulleys and the mounting rope. And while we think it's not the best idea, the machine can still be used to do few exercises, including abs, biceps, shoulders, and even back if you're an expert at locking muscles and joints in order to focus all your power on just one muscle group.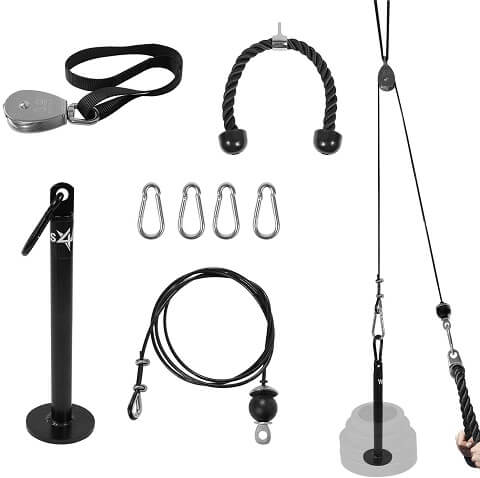 Braided rope
As with all triceps ropes, this one also features a braided design. We like this braided design because it makes gripping the rope a lot easier, especially during periods of high exertion when muscles have forced to reshape for good.
The rope is 27 inches in diameter, perfect for an excellent grip. Not too wide to let you waste your energy maintaining your grip and not too narrow to destabilize your position. Just the right diameter for a average hand like ours for an excellent grip.
Finally, the rope material is nylon. We wouldn't say we're a big fan of this, because the fabrics are a less nice in terms of durability, but we did find the nylon easier to grip excellently. Also, there are fewer screws and it is safe when using nylon.
Carabiner
Package includes four stainless steel carabiners. While it's great and all when it comes to improving the safety of equipment like this, we think carabiners add this hint of versatility that its due lacking of things other than a triceps rope.
You can use the carabiners to attach the pulley to other equipment in your home gym, that way you can introduce much-needed versatility with this kit.
We found also, The steel pulley M50 is not smooth, and it makes a loud noise when moving with heavy weights. And It is better to replace it with a seamless one separately.
You need to get the wall mount bracket separately, if you want to mount it to the wall.
Best for triceps exercises
Great fit grip
Solid plastic ends for improved usage
Not the most versatile cable pulleys
The pulley sometimes makes noises
Yes4All Deluxe Cable System in Brief
Not difficult to assemble, sturdy construction, for pull-down exercises only, grip just right.
Valor Fitness BD-62 Wall Mount Cable Station
Dual Pulley System
What's better than a single pulley system? The Dual pulley system of the Volar Fitness model.
This one here, is built in wall-mount pulley cable, that has major improvements over the other wall-mounted cable pulley we've been talking about. So maybe that's why this is our favorite of them all.
The wall mounted dual cable pulley system allows you to take your exercises to a whole new level, it's more professional and target muscle groups with better focus.
The dual system also allows you to increase your range of motion by a significant amount, and will not limit your motion of any workout, thus ensuring that you can perform a variety of exercises on it, including front and back shoulder exercises, legs, core, back, and usual Triceps and biceps.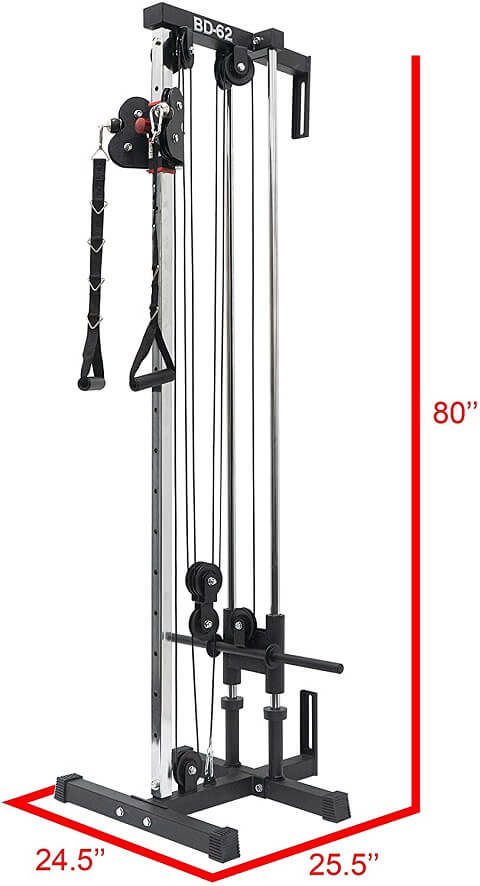 You can also train each side of your body in different directions, for example, while exercising the muscles of the arms, you can exercise the left arm to pull in the upper direction and the left arm to the lower direction, because each side has different handles and cables and is separate from the other.
This way, the full weight will be carrying for each muscle side, so that the focus is on each side at the same time individually, without having to switch handles between the sides or to wait until one side reps completed.
Adjustability
It can be adjusted, Moreover, the Volar adjustability is very easy. Much easier than what we talked about earlier of other pulleys system.
The pin and hole system allows you to adjust the pulley height to 16 different levels, from top to lower near floor levels, to enable bilateral and unilateral exercises, which is very remarkable. Just Imagine all the different exercises you can do in your home gym with this feature.
In addition, you can set the pulley system to higher level for pull-up exercises or set the pulley down for lifting exercises, including to build leg muscles.
Double Bar Track
The double bar track is a huge improvement in how wall-mounted pulleys work. The track essentially allows the weights not to swing under the influence of gravity, which is a very common problem with wall-mounted pulleys. Swinging alone disrupts your workout so much that you can't focus on your muscle groups properly unless you're an expert.
The double-bar track nullifies this problem and ensures that you do your exercises just fine, as professionals.
Dual Pulley
Double Bar Track
Good for limited home space
16 Different levels of height adjustment
It is 80 inches tall
Expensive, but lasts a lifetime
Volar Fitness Cable System in Brief
Not difficult to assemble, solid commercial construction, for pull-down and lift up exercises, dual pulley, double bar track, 16 adjustable height positions, wide range of motion, more exercise versatility.
As you can find, with one machine, you can workout the biceps, triceps, the shoulders, lower back, hamstrings, and quads muscles using the cable pulley system which is a must for serious muscle builders.
In terms of versality machine with a several tools available in the package kit including a pull-down bar, your better choice is Antelife Fitness on amazon.
If you are looking for an easy-to-install machine, 360-degree swivel pulley, with an upgraded bearing pin that enables you increase loading weighs up to 280 pounds, then the Mikolo Cable Pulley System on amazon is your right choice.
If you are looking for an all-in-one dual pulley system with high durability and versality workouts, Volar Fitness is the best wall-mounted pulley tower with dual pulley features on amazon, and 16 adjustable height position, so you can train your muscles without being concern about limiting your range of motion in any type of exercise.
Using the best wall-mounted cable pulley for a small home gym would be a game-changer in the rules for your workout. You will sufficiently train your body at home, almost all parts of your muscles will get the benefits that you develop and build them, plus you will enjoy it and have a great time working out with it.