(Last Updated On: January 26, 2022)
Why do we need to review and discuss the leikefitness sissy squat machine, does it matter!
In fact yes, for people who are targeting the use of training equipment to help them work out primarily towards gaining bigger thighs, tone glutes and stimulate six abs, this needs dedication exercises in the gym with different machines and a personal trainer to guide them towards the proper movement steps.
But now with one assistive training machine, you can now work out in correct way at your home at any time, to hit all three of these muscles and the other secondary muscles that you will be discussing later in this post.
So what's so special about reviewing leikefitness sissy squat machine? It's a durable adjustable steel frame design for a compact and modern looking machine for training different muscles, with comfy cushions for your body, can carry up to 330 lbs, foldable and suitable for small home spaces, portable with wheels, multi-purpose that can perform +5 positions.
Will it stand up to its competitors in the market by outshining them all? Or will it be another one of those machines you wouldn't want to waste your money on? What about its mechanics? Are they as supportive to the joints as they say? Or is it all just a big, fat bluff?
Well, there's only one way to know.
 "On this page contains some sponsored links and ads with special deals, As an Amazon Associate when use the links for a qualifying purchases I may get a small commission at no extra cost to you, and you may get a great bargain. Read Full Disclosure"
Here's the general notion about squats amongst the Public: "It will cause a lot of compressive force on your knees resulting in damage and wear and tear of the knee joint and eventually developing into excruciating pain."
But here is why they could not be more wrong: Doing squats of any sort, be it sissy squats or otherwise, is beneficial for the overall well-being of your knee joint. This research right here proves that doing squats may be beneficial for your joint health.
However, there is a specific limitation to how to do that research. It is about the load and consistency of the squat, its angle, and its depth. Go too shallow, and you might not reap the benefits. Go too deep, and you might just as well injure yourself. Perform your sissy squats at inconsistent angles, and you might not have as healthy of a knee joint as you initially anticipated.
 And while mastering the sissy squats is not something you can achieve overnight, you can use convenient and innovative machines as in leikefitness sissy squat machine. It has been people's favorite for a long time now. But now, to do it justice, it's time to give this little machine a proper review.
First Impressions - Seems Nice Enough But Can It Hold My Weight?
Aesthetically speaking, and from initial looking, this machine is quite nice looking. It has a modern design, looks sturdy enough from the outside, and the product quality looks pretty fine. In addition, the cushions are comfy and durable enough. Although cushions looks like it can get slippery over time, let's see. 
Remember that this is all just a preliminary judgment based on appearance only. Speaking of which, the black color, combined with the alloy steel body, seems to compliment the overall design nicely.
It doesn't need any assembly, so that's nice. You need to unpack it and place it in one corner of the house. Speaking of unpacking, the machine is pretty lightweight compared to how it looks in the pictures.
Who knows if it can hold our weight or slip from underneath us. We'll know that shortly. It is also smaller in size than it appears in the pictures. Dimensions only 39.5 x 19 x 33 inches. That's nice because Sissy squat machines don't need to be that big.
It's also great because it doesn't take up much space. So score on this feature! Plus it's foldable which every user will like.
Specifications of leikefitness Sissy Squat Bench Machine
Name: Leikefitness deep Sissy Squat Workout Station (Multi-function)
Manufacturer : Leike Sports
Model No: GM8300
Color: Beige or Black 
Material: Steel frame, PP Foam, Cushion PU leather (artificial)
Installation Size: 39.4×21.7×31.7 Inch
Max Capacity: 330 lbs
Net Weight: 26 lbs-30 lbs
Enough about first impressions now. Let's begin to review its main features.
Apparently, there are many different ways you can use this machine. The user manual that comes with the package explains all the exercises you can do with this machine, but there are videos of people getting creative with the machine and doing some crazy stuff.
But, yes, this machine makes working out a lot more fun. Maybe it has something to do with the design, or maybe because no matter what position you try to do with a sissy squat, It just somehow turns out to be correct.
The machine forces you to perform a sissy squat at an appropriate angle. Then, all you have to do is position your thighs, feet, and body core properly and let the machine handle the rest.
It Forces You For A Proper Squat!
If you don't know the correct way to do a sissy squat, or any squat for what it's worth, start by keep your back as straight as possible, keeping your knees at a correct angle and center of gravity toward the sole of your foot. This is pretty easy to follow as long as your quads and hamstrings are not fatigued.
As soon as they start getting fatigue, which, by the way, is the time of muscle strength and mass buildup, people begin to lunge forward, and this ruins everything! From angle to depth to focus point and center of gravity. It's no more a squat but a simple up-and-down movement of the body which, regardless of its value, is useless and dangerous on your knees.
If you are not aware of the proper position for the exercise, the sissy squat will force you to do it correctly.
However, this sissy squat machine ensures that your body stays upright and straight while all the tension from your body weight is transferred to your focus areas in the muscle, which for most people are your quadriceps, hamstrings, and glutes, and that depends on the kind of squat position you're doing.
And while the name of this machine is sissy squat, but you don't have to use it only just to squat, which brings me to my next point.
How Many Exercises Can You Do With leikefitness Sissy Squat?
I counted the exercises only for the sake of analysis and obtaining estimated numbers, it is no less than 7 positions. The number goes as far as your creativity takes, of course, not too far, but you get the idea.
The deep sissy squat is the primary exercise this machine is designed for. However, you can also adjust the machine using its pins and foldable design to different angles, and you can easily do your desired exercise.
Besides sissy squats, you can also do another popular form of squat: The band squat. Another fairly easy-to-do exercise is the back-extensions. For that, all you have to do is set the machine to a comfortable angle to stretch your back, and you should be good to go.
They work great with back extensions for a 6 feet person by adjusting the highest center cushion height, but for those over 6 feet that can become a challenge.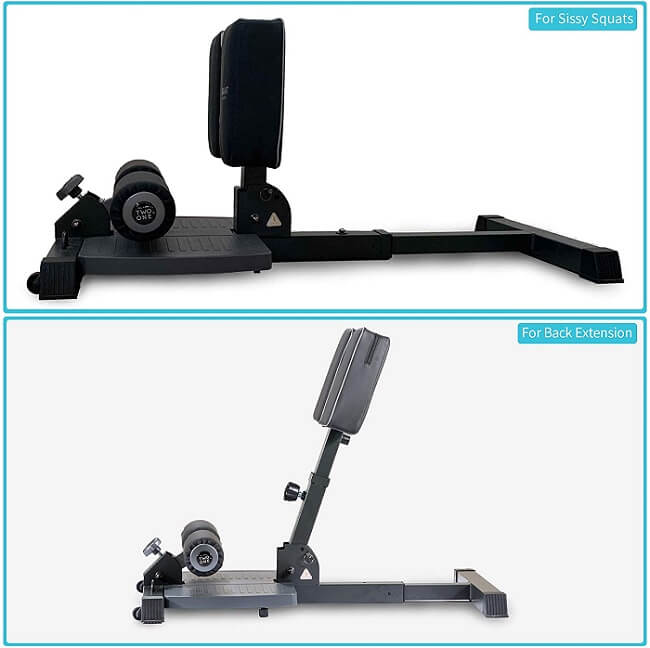 Other exercises you can try with this beast machine are lateral extensions, forward lunges, push-ups, and sit-ups. This is all excluding your creativity with the machine.
All in One, leikefitness a perfect machine so far when it comes to incorporating several exercises for both your upper and lower body, compared to other sissy squat machines in the market that only allow you to perform a couple of limited exercises for the lower body.
The body is made of alloy steel, and the pins seem to be stainless steel. But the fact remains that it is quite sturdy and hold its position very well. Not wobbling at all, it has 4 wide legs of strong rubber to hold it well. Which is Quite impressive.
The alloy construction is sturdy, means it can hold my weight very well. The packaging instruction said it could hold a maximum of 330 lbs of weight, but I'm sure this is not the limitation figures for device, it could easily go up to around 350 lbs or so.
The floor plate is made of strong plastic mold, not metal, otherwise it will be too heavy machine.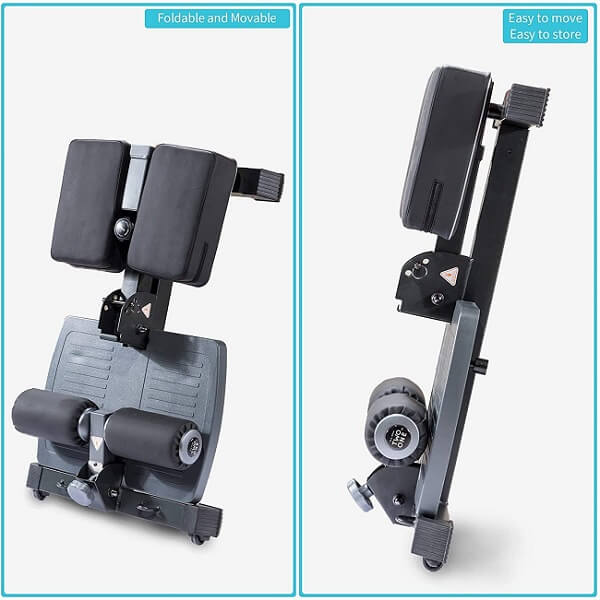 As for the cushions, remember when I said they looked a little slippery to me? Well, it turns out I was right. But not completely. The material used for the cushions is PU leather, which, although much less slippery than the original PU, is still very slippery when compared to my all-time favorite canvas.
The canvas material for the cushions will be great because it will eventually make things not slippery. But you can't go wrong with PU leather either. Just be sure to keep a towel close by to wipe all your sweat.
And finally, to answer my previous question. No, it will not slip under my weight despite its lightweight construction and quality. With its anti-slip foot pads and anti-slip design, it's on another level for sissy squat machines.
Portable and stable floor plate (Plastic material)
Steel frame, PP Foam, PU leather
Easy to use and No assembly required
Adjustable design with adjustable foot holder
Versatile and folds flat for small storage space
All-In-One to exercise different muscles
Great value for its price
Multi-purpose
Padding could use a more durable foam
Not very supportive of the back of the feet, when using back stretch
Not the best device for lower back extension
Leikefitness Sissy Squat Machine Muscles Worked
As we highlight in the review, the leikefitness Squat is a Multi-Function bench that can practice on different parts of the body muscles, by adjusting the machine and position to suite the target exercise.
The following muscles can be worked using leikefitness deluxe sissy squat:
Benefits of Leikefitness Sissy Squat Machine
There are many great benefits behind exercise using the leikefitness sissy squat bench machine at home, some of which I will list based on their relatives on the research article above and others on the reviews of different real users who have experienced using the machine, the benefits are as follows:
It's an isolation exercise: targeting specific muscles such as the legs as in the quads, this increases muscle strength many times over than the usual compound exercise without the machine.
Less stress on the joints: It does not add unnecessary pressure on the knees as in a usual squat, which reducing potential injuries. You can check out the user experience review for knee pain on amazon.
Versatile works on different muscles: It is Multifunctional that covers many muscles of the body, other than the legs as well as the abs, glutes and stretching the back muscles.
Portable: With built-in wheels you can easily move the device without having to add unnecessary loads on your back every time you use it.
Adjustable to fit many body sizes: It can fit many body shapes or heights no matter what, simply you can adjust for your back, feet and even the angel that suits you, then directly start the exercise.
Storage in a small space: With this machine, you do not need much space, it is foldable and can save your space even in the case of a small apartment, as in the reviews of these users on amazon.
And while it's true that this review didn't cover all the tiny features about the leikefitness sissy squat machine, needless to say, you can be pretty confident in your choice of this machine. It has everything you could need from a sissy squat machine plus more.
Even if your primary focus isn't performing sissy squats, this little monster can still be handy because there are dozens of different ways you can practice by use it in different positions to work on different muscles. Your creativity is all you need!
Calculate Features Scores
Based on aggregated findings from article review and 20 random users on Amazon.
Workout on back muscles
85%
Designed to Strength Legs, Abs, Glutes Muscles
98%
Portable: Easy to Move
96%
Adjustable: Fits many Body Sizes
93%
Storage: Foldable in a Small Space
97%
Material: Sturdy Construction
92%
Easy Assembly: When Unpacking
100%
Padding: Durable foam
80%