(Last Updated On: April 7, 2022)
If you are a regular CrossFit athlete or a beginner in body building, Best CrossFit Grips for beginners is recommended, Why!
You must be aware of the suffering caused by the ripped calluses and blisters on your hands. Anyone who pull ups, lifts a bar or dumbbells on a regular basis is at risk of developing stiff hands that will bleed and rupture if not protected, so the use of Best CrossFit Grips for beginners becomes inevitable.
Not only are they a massive discomfort, but they can also leave you unable to do crossfit fitness for weeks on end. So, How do we deal with this problem?
The answer is simple yet effective, use the right natural grip to protect your hands, and it comes with CrossFit fingerless grips that allow free hand movement during training.
As you may have guessed from the title, today I am going to discuss with you some of the best CrossFit grips available on the market, which will prevent any mishaps and ensure that you can do your arm exercises for longer without exposing your hands to any injury.
Before getting into the top picks, I'd like to give an overview of what you should look for in Grips, because not all types on the market will be compatible with your requirements.
---
"On this page contains some sponsored links with special deals, As an Amazon Associate when use the links for a qualifying purchases I may get a small commission at no extra cost to you, and you may get a great bargain. Read Full Disclosure"
---
CrossFit Features You Should Consider
The first purpose is obvious, the CrossFit grip should protect your hands. However, some of the other features it has to offer are mobility and robustness. The grips should be lightweight but still allow you flexibility enough to handle a Pair of Dumbbells, weight lifting bars, pull up handles, and other equipment.
The CrossFit grip should allow your wrists freedom so that they can have a full range of motion. You also want your grip to be made of quality materials that can stand the test of time, and at a cost that won't empty your pockets.
With this preferable background features, let's talk about the next top hand grips:
4 Best CrossFit Grips Available in the Market
1. Bear KompleX 3 Hole Leather

CrossFit

Grips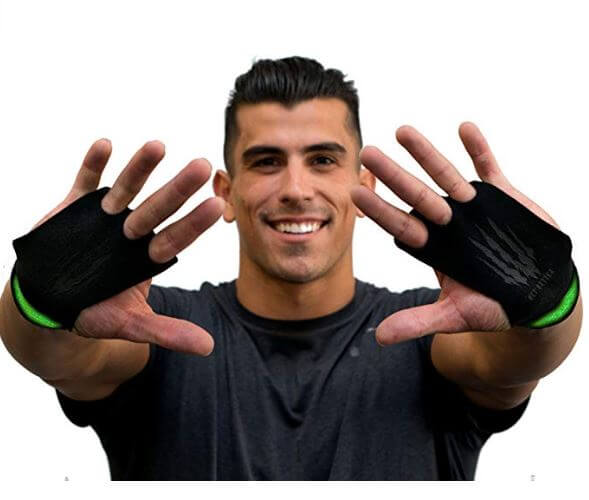 Bear KompleX 3 Hole Leather Hand Grips are crafted of high quality leather, and have a custom wrist strap that provides maximum support and comfort for the user. These hand grips are expertly stitched with triple stitches that make them strong and flexible so you can kill that workout without having to worry about any mishaps caused by poor stitches.
The Bear KompleX 3 Hole leather grips are durable, but the leather is soft and flexible to allow your hand grip to mold on the bars you hold. The leather grips also hit the perfect spot in the anti-slip feature, as they will give you just the right amount of grip without slipping over the bars, yet won't stick to metal to impede movement.

These hand grips also provide an amazing range of motion for the wrist, without hindering any movements. This is ideal if you use dumbbells, kettle bells, or if you do weight lifting.
As with any leather product, a certain adjustment period can be expected before you can get comfortable with the grips. The leather is heavy-duty and resistant, which means that you will have to take some time to break your grips before you can take full advantage of it.
To facilitate this process, it is recommended to soak them in warm water and work them out before you start wearing them during your workout.
Check Bear KompleX Grips On Amazon
---
Pros
Made of high-quality leather
Anti-slip feature
Provides free wrist movement, without impeding any movement
Protect your hands and skin very effectively
The leather is long-lasting and resilient
Cons
You need to break the grips before using them, because they are made of heavy-duty and resistant materials
The first few initial exercises may feel uncomfortable
2.

ProFitness Leather Cross Training Grips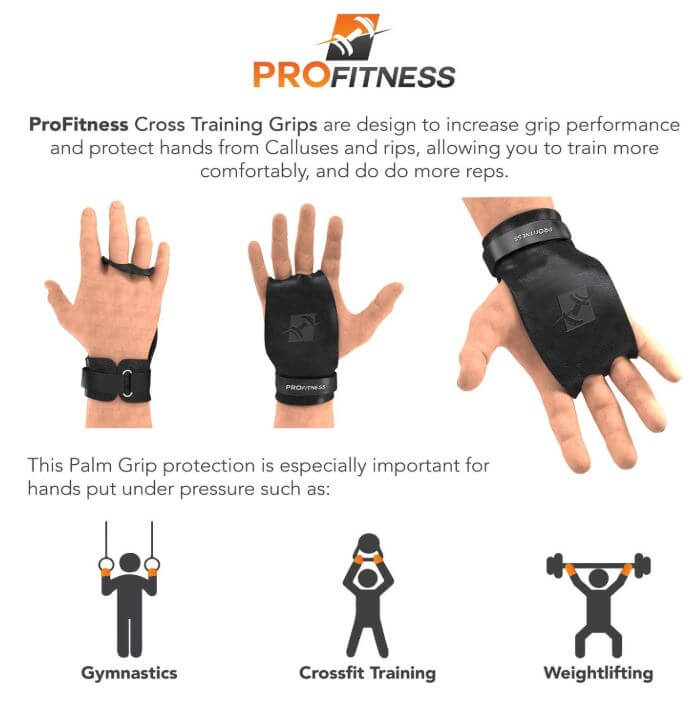 Designed with functionality and ergonomics in mind, ProFitness Leather Cross Training Grips are available in a 2- and 3-hole option. Designed with suede leather, this product lends some great features to the crisscross hand grips.
Not only do they have the durability and reliability of traditional leather, but the smart choice of materials also makes them easy to break while increasing flexibility.
The build quality is top notch, and you'll find the gloves to be extremely durable. What makes ProFitness Grips stand out is that they come with a lifetime warranty.
Yes, you read that right! If the handles are damaged or torn during the lifetime of use (which is inevitable in the long run), you will receive a free replacement. This is an amazing assurance from the manufacturer and speaks volumes about the trust the company has placed in these grips.
The material is breathable, great for your hands and allows them to stay dry and protected at all times so you never have to deal with unsightly callouses or painful blisters. The gloves have silicone padded palms that ensure a firm grip and control during workouts.
These grips are versatile and compatible with all forms of CrossFit and weightlifting, thanks to the adjustable wrist straps that provide extra stability.
Check ProFitness Grips On Amazon
---
Pros
Breathable Material
Great design with high quality construction
Flexible design that does not hinder wrist movement
Lifetime warranty
Cons
The suede leather bleeds for the first few uses
May not be as durable as traditional leather grips
3.

WODFitters Textured Leather Crossfit Grips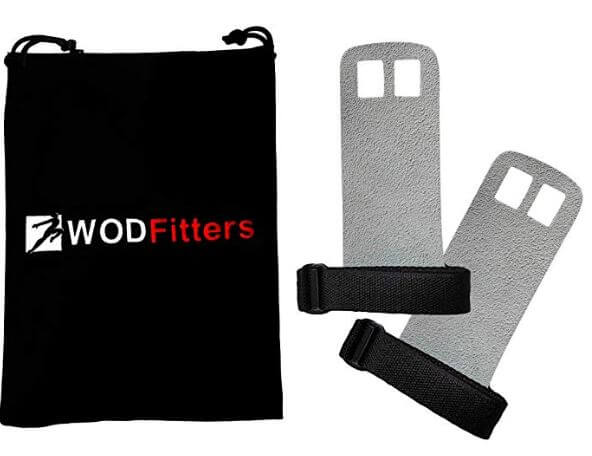 WODFitters hand grips are very stable and robust, due to their simple leather design and textured finish. The textured finish improves grip, and the leather represents the perfect combination of flexibility and strength.
This makes the glove ideal for anyone who wants durability and a great grip but doesn't want to spend time breaking out new grips.
The gloves offer effective protection, yet are thin enough that hands stay comfortable while you're always on top of the game. These gloves have square finger holes which may seem uncomfortable at first, but after a few uses, you won't even notice them. You can use Grips in a variety of workouts including pull-ups.
Comes with an extra carrying bag in order to keep the gloves without tangling them all.
While these gloves have some good features, they fall behind due to the flimsy wrist strap. The handles are made of leather but the wrist straps are crafted using synthetic materials that are not of the highest quality, which makes them prone to tears and wearing out. Another drawback is that the straps are prone to leaving ligature marks on your wrists.
This is a big problem because the whole reason for choosing cross hand grips is to protect your hands and wrists, and wrist marks are not the desired outcome.
Check WODFitter Grips On Amazon
---
Pros
Gymnastics grip bag
Good quality leather
The textured finish is great for improved grip
Doesn't require aggressive breaking in
Cons
The wrist band is loose
The strap may leave marks on the wrist
4.

JerkFit WODies Full Palm Protection Grips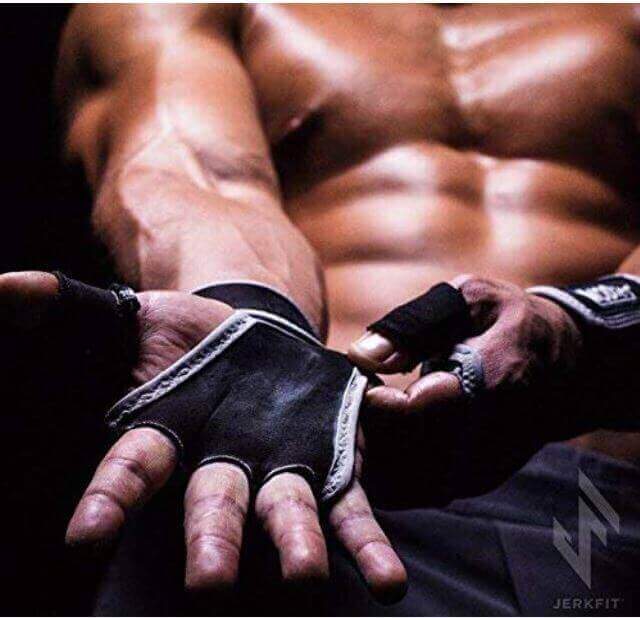 JerkFit WODies is different from the other grips on our list, because instead of leather, it's made using synthetic materials. The premium material gives them some unique features, unlike their leather counterparts.
These grips are washer/dryer safe, which can be a plus point for many people who prefer cleaning their workout gear periodically. The material is also more flexible, which means that your hands have more flexibility and this can come in handy during exercise.
These cross hand grips are also different from other options due to their support for being connected to the palm and wrist. It claims the design is patented and comes with a better fit with extra wrist care. And the claims are true to some extent, but only for certain exercises.
If your main focus is pull-ups, ring dips, or any other exercise in which the wrist position is stabilized, you will be happy to use the gloves because they offer amazing protection and flexibility.
However, if you focus on exercises that require a full range of motion for your wrist, gloves will limit you. Weightlifting and wrist extension positions are not compatible with these grips, as blocking wrist movement can lead to discomfort or even injury.
What the glove lacks in versatility, it makes up for due to the elastic patented neoprene material. This glove helps absorb any friction for an effortless grip, and the crossed hand grips will not cause bunching or discomfort during workouts.
Pros
Washable / Dryer friendly
Anti-slip feature that absorbs friction
Cons
Limits wrist mobility
Synthetic materials may be deteriorate earlier than leather
Frequently Ask Question (FAQ)
How to Break in CrossFit Grips?
If you haven't worn cross-fit grips before, you may find that uncomfortable, rigid, and tight feeling on your fingers when you first wear them. Actually this is totally normal for everyone at this level and this will fix over time the more you wear the grips, but there are quick ways to loosen the grips and become un-tight as with the finger holes.
Expand the Fingers Grip Holes
The grip can have 2-3 holes. Find a pin or iron stick with a width similar to the hole and begin to insert it with the holes of the fingers, then slowly twisting the fist. Repeat for all holes. This will loosen and make the grips easier to wear.
Wear Your Grips and Close the Wristbands
Make sure it fits perfectly, and is very tight. Most of the time everyone feels a small grip on their first use, this is usually normal, and over time after a break in they will start to use them, and it becomes normal.
Sprinkle a little water on your fist, then get a piece of chalk and scratch your hand grips, this helps make it less rough on your hand skin and also absorbs any moisture if you sweat, making your grip stronger and firm with no slipping.
How do you Measure CrossFit Grips Size for your Hand?
You can Measure size from the base of the middle finger to the bottom of the hand crease at the wrist.
It's always better to have TWO pair, because it is always better to have a spare pair.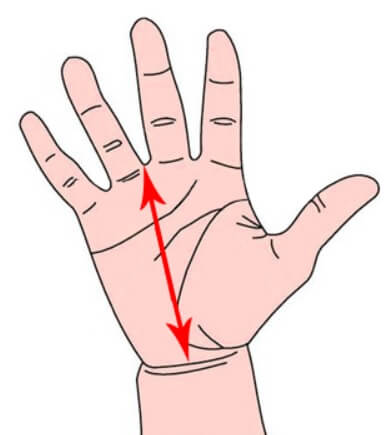 Benefit of Fingerless CrossFit Grips?
Provide more breathable for the hand during the activity.
Reduces sweating caused by exertion.
Maintain an extra natural grip when holding a barbell or dumbbell.
How To Clean Your Grip CrossFit?
One Frequently Asked Question About "How to Clean Your Grips"
Spray water on the grip and wipe with a clean dry towel.
Use the Chalk Ball for easy cleaning by scraping the cross-hand grips, plus the chalk improves your grip by producing a non-slippery motion as you go about your routine.
Dirt and chalk can build up over time on the grips, so you can break them up with

Premium Brushes

to clean, simply by gently scraping the surface of the grip, to restore the natural efficiency of the leather and its materials made from.
How to Store CrossFit Grips?
The best way to store and maintain CrossFit grips to easily fit in your gym bag or closet, is by folding them starting at the top of the grip (take around 4cm) starting with hand holes, then continuing to fold at the same height until you reach the inside at the wrist strap, then secure the strap over it.
Verdict
We've taken a look at some of the best CrossFit Grips that can improve your workout experience and keep you from getting discomfort. While you'll be happy with any of these choices, it's important to consider your priorities before making a decision.
If you want to have the ultimate in durability and flexibility, and don't mind breaking in the grips, you should buy the Bear KompleX 3 Hole Leather Crossfit Grips. If you want the perfect balance between toughness and flexibility, the WODFitters CrossFit Textured Leather Hand Grip will work just fine for you.
However, if we had to pick one up, the ProFitness Leather Training Grips would be our choice due to their well-balanced design and amazing versatility. You can use the gloves for almost all types of workouts and they come with a lifetime warranty that gives them a huge advantage over their competitors.