(Last Updated On: March 22, 2022)
Are you a fan of squats to strengthen your glutes, quads and hamstring, but afraid on your knees! Now let that not stop you! With the help of Sunny Health and Fitness Squat Assist Trainer, you will be able to start exercising again in a safe squatting position, and will not only help you be easier on your knees, but also perform the squat in proper and correct steps and get the most out of it, will demonstrate this on this review.
Squats are one of the best exercises you can do, hands down! And if you think that you can use squats for the lower body only, then think again. Not only does squat help improve your lower body muscles and mobility, which is the primary area it focuses on. But it also has secondary effects on other parts of the body, as Back Shoulders muscles.
The worked muscles of Sunny Fitness Assistant are not only the glutes, hamstrings and quads, but also the muscles of the upper body, when performed as a different variation of the machine.
A study of squat kinematics showed that while increased leg muscle strength is the obvious consequence of squatting, it can help improve posture dramatically and help increase the range of motion of the various joints involved, including the knee joint and the sacroiliac joint. This means less chances of arthritis and better joint health.
While all of these benefits can certainly be reaped by using squats, the fact remains that squatting should perform in perfect, with correct steps, to make sure you get all the good things out of the squat. Unfortunately, for most people, this is not possible because a small amount of muscle fatigue while performing can cause subtle changes in the angle of squatting and the position of the feet. This leads to drastic changes in results, and you may not reap what you initially expected.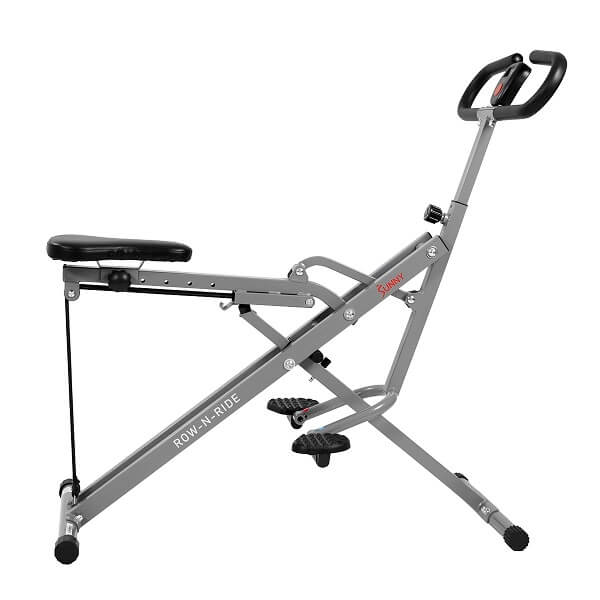 That's why we like machines as Sunny health and fitness squat assist that help us, because they allow you to perform perfect squat moves every time you exercise and make sure you maintain proper posture throughout your workout. Moreover, the design of Sunny Squat Assist Row machine, allow us be creative and not only do squats but also some rows and even chest presses. If you try some basic stretching exercises with the machine, you will feel that they work like wonders with your middle and lower body muscles.
Without further ado, let's actually get into our Sunny health and fitness squat assist row-n-ride review.
 "On this page contains some sponsored links and ads with special deals, As an Amazon Associate Read Full Disclosure"
Will go throughhh the main features for Sunny Fitness, and explaiin in details, to have at the end a clear idea about, and then you can descide wither it's beneficial or not for you. 
Model Name: Sunny Fitness Squat Assist Row-N-Ride™ Trainer
Model No: 77, 77S
Brand: Sunny Health and Fitness
Resistance Mechanism: Resistance rope
No of resistance bands: 3 Adjustable bands
Machine Dimension: 45.3 L x 19.3 W x 50 H inches
Machine In Folded Dimension: 11.4 L x 19.3 W x 55.7 H inches
Seat Dimension: 7.5 X 11.4 inches
Machine Weight: 27.3 lbs
Material: Alloy Steel
Maximum User Weight: 220 lbs
Color: Gray
Digital Monitor: 1
LCD batteries: 1 AA
This machine looks kinda cool. And with its modern design and colors, it will look an even more awesome piece in your home gym setup.
After the first impression of the appearance, let's get into the details:
Sunny Fitness Assistant has two Models Design 77 and 77S, both have the same main specification.
The Sunny Health and Fitness Squat Assist comes in Two basic Models: the 77 and 77S. While they both share the same basic features, the 77S Sunny Health Squat are the upgrade model which has some additional features and is a little more convenient than the 77. However, the features for both models will mention it.
Plus, we'll point out additional things about the 77S along the way.
The highest recommended user weight that a user capacity machine can handle is 220 lbs for both the 77 and 77 S, which means they will cover a wide range of body sizes.
Easy assembly that can take 20-30 minutes, everything you need is included, even either small parts or a manual.
Moreover, with this simple machine, you can keep track of your progress during training, with the LCD Monitor screen tracker on the handlebar, to check the time you spent exercising, the number of repetitions you did, and the calories you lost, making this device help you lose weight and Burning your fat, this is if you exercise daily, to get a slim body and lose excess weight pounds from the belly.
Another great feature is the foldable Sunny Fitness Assistant, which can save a lot of space and suitable for small house, the machine length can be folded up to 75% which is very amazing space, length decrease from about 45 inches to 11 inches.
Sunny Fitness Assistant can be folded up to 75% shorter in length, saving huge space and suitable for small home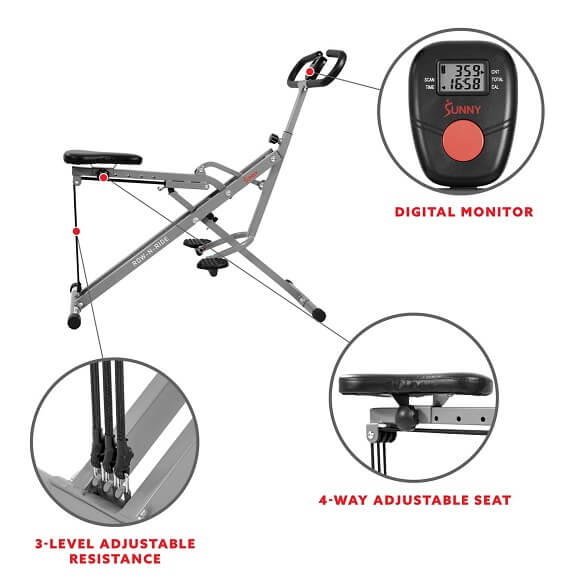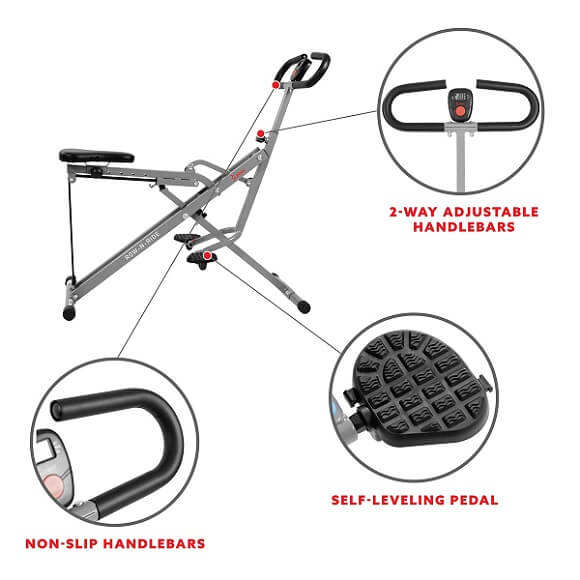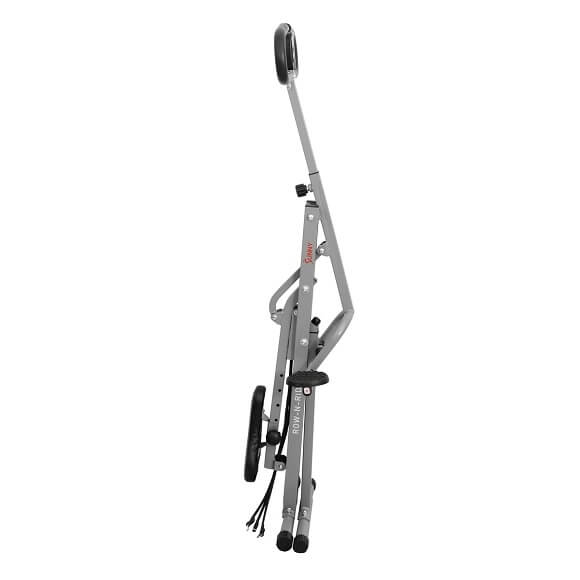 In addition, You can add extra stability to the machine and prevent it from bouncing, or while practicing deep squats, by rotating the flat pads to the right or left that located on either side of the rear legs, which are angled flat, to force the machine extra balance, so it never moves. Especially for uneven floors, so the device will stay sturdy in place.
There are a few things you need to know about the adjustability of both models. Seat adjustability, seat angle and handlebar adjustability.
The seat for both Sunny Fitness models can be adjusted to 5 different levels, closer to or farther from the handles, depending on how comfortable you feel and how deep and challenging you want your squat workouts to be.
What distinguishes the 77S Sunny health squat assist seat from the Model 77 is convenience. The Model 77 has a pin under the seat to adjust the padded seat. You will have to remove the pin, remove the entire seat, and set it to another level, then return the seat to it's place. While this sounds fine, every time you need to adjust the seat, you'll have to bend over and raise the seat a bit to expose the pin, then twist and take the pinout: a lot of work for something so menial.
The 77S, on the other hand, offers a plethora of comfort. The seat adjustment pin is on the side of the seat, not under it. This means you don't have to bend over and lift the seat to adjust it. Plus, you don't have to take out the entire seat either. Instead, take out the pinout, move the seat to a new level, reinsert the pin, and you're good to go.
There are three different angles you can adjust your seat to, 30 degrees, 60 degrees and 90 degrees. The angles depend on how deep or superficial you want the squat to go and what type of squat you want to do with the machine.
Adjusting the angles in both models is basically the same and steps includes:
Removing a pin.
Re-adjusting the angle.
Re-insert the pin by bringing it back into the new angle.
We like to adjust the 30 degree setting more, because you then practice for deep squats and it gives you more flexibility to perform the squat on Sunny Assist Trainer. This also allows you to go up to 60 degrees or 90 degrees, which is a wide range! But if you are a beginner, feel free to adjust it to 90 degree – it's not a big deal.
But we want to emphasize that the 30 degree angle seat will generate tremendous resistance on your legs and lower back, which is not preferable as a new just a starter person, after a time of training you can lower the angle.
The handlebar can be adjusted to 4 different levels with the exact mechanism using pins and holes. The height of the handlebars will depend on your height during squatting and the type of exercise, if you're doing rows.
During rows, you can grip the handlebars in three different ways, starting with a normal grip row, or holding the handlebar to the sides to perform a wide row to squeeze the shoulders at the back, or with a reverse grip to target the biceps. And finally, you can use one arm at a time during rows to increase arm strength.
This is largely overlooked for this device, but because of its importance, so we thought of giving it a proper detail.
The paddle for both machines is made of non-slip rubber. But this is not the only thing that excites us. Surprisingly enough, the Model 77S (not the Model 77) features a paddle that can rotate freely under your feet. This may not sound like much, but we found it very useful in our exercises, as it rotates according to the natural movement of the foot during the exercise.
The importance of rotation becomes prominent when you go for some difficult and deep squats when your feet are constantly changing angles depending on the position of your body and legs. If the paddles were stiff, deep squats wouldn't be as effective on the calf muscle, and the hamstrings to stretch these muscles wouldn't be the same, and the rewards and results will be less.
Speaking of stretching, rotation can also be used to stretch your calf to significant degrees before and after workouts during rows practice. And if you're experienced with workouts, you know how important stretching can be.
Honestly, it doesn't seem like a major feature we talk about a lot, but it's one of those things you didn't know you needed until you had it.
They might call it a squat assist, but it's not only just for squats. The design, mechanics, and overall flow of the machine can be used for many different exercises, including few for the upper body also.
Excluding the different obvious types of squats that you can do with this machine, here are some other additional exercises you can perform as well:
With this compound exercise, you can work the middle of your back, especially your serratus anterior (lateral chest muscle to lift ribs), Latissimus dorsi, and trapezius.
To perform the rows, adjust the handle to the height most comfortable for you, preferably at the level of your chest. Next, stand on the pedals and perform either one of the three grips.
Overhand grip, where you hold the handle by its upper curve (the upper part) and contract the trapezius so that your shoulder blades contract toward each other. Make sure to do this with your shoulder and back and not with your arms as the exercise will not be as effective.
If you want to work out your arms, make a lower hand grip and grab the handle of the handlebar from the lower corner. Finally, you can do a wide-angle grip by grabbing the handle sides from the two opposite curvatures to add that extra bit of challenge to your workout.
It sounds a little crazy workout, but it's totally possible. All you have to do is adjust the resistance bands that's attached under the seat to your desired level to want, to adjust resistance to be very hard or less, then stand up straight so that the seat is in front of you, and grab the edge of the seat from under it with both hands, and start into a deadlift workout position.
Hold your back straight, focus on your middle back and core, and do some good deadlifts by grabbing the seat and pulling it up and down as you would with a barbell. It works wonders. Try it!
Incline Bench Press but without a Bench
Again, it is quite possible to do a bench press using Sunny Fitness squat assistant.
You can workout your chest also, by start adjusting the resistance bands for the seat underneath using the bands provided. Now position yourself so your upper chest is facing the seat diagonally (just lie on your butt on the floor against the back of the machine keeping your torso up and straight and then spread your legs and slide inward more so that the base of the machine is between your thighs).
Hold the seat either in an overhand close grip or at a wide angle and press it upwards. Provides a perfect upper chest workout. Which is something you must experience.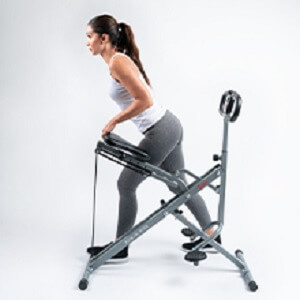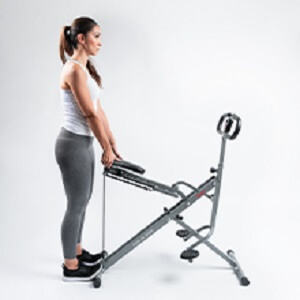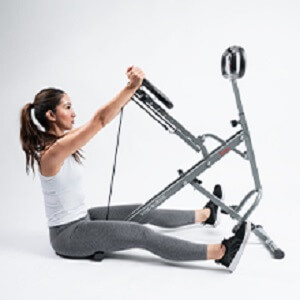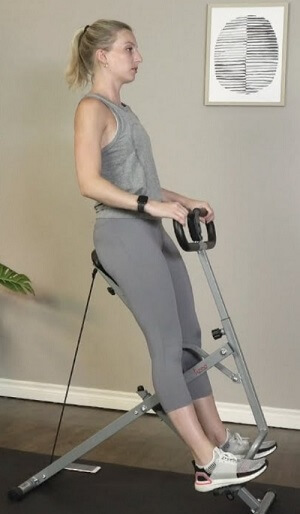 You can also practice bent over row, on the same mechanism, by standing next to one side of the back of the machine, near to the seat, then by using one hand, start raising and lowering the seat, once you have completed the full set, switch sides, moving to the other side of machine, then start with the other hand.
But I want to mention one thing about deadlifts and bench press, let's be realistic here, that this resistance band won't give you the same massive muscles targeted for these two workouts, the same as on existing specialized equipment like barbells or dumbbells, but it still gives you valuable muscle stretch, And exercise bigger muscles for the new ones.
Each resistance band applies 22 lbs, so the 3 bands will add 66 lbs of total weight, In-order to workout your muscles
Extremely Versatile: It can do many different exercises on one machine.
Anti-slip and adjustable footpads
Tracking monitor for keep track of time, calories and total reps.
Easy to assemble and lightweight
Foldable which is convenient for small home space
No more than three resistance bands can be added to the seat back
Not the best customer service
Benefits of Sunny Health and Fitness Squat Assist Machine
There are great features and valuable benefits that Sunny Health & Fitness Squat Assist machine can provide, let's review a few of them, will also cover what are the main target and secondary working muscles:
Workout the targeted body muscles from the Glutes, Abs, Hamstrings and Calves.
You can still exercise other secondary muscles like upper Back, Traps, Shoulders, Biceps and Triceps.
Versatile machine, other than the squats, you can perform the rows motion, bent over rows, deadlifts and bench press.
Squats workout without straining the knee or causing pain or injury.
It can helps to lose weight in the body and burn extra fat while reducing the number of pounds, especially in the abs.
It can fit in any small home storage space, because it is foldable and can reduce its length by up to 75%.
Easy to assemble and quickly install.
As you found out in the review, there are a lot of features in this device, also consider its affordable equipment, in addition to its versatility for working out different muscles, this makes it a desirable device, actually recommended and worth to have by improve your health at your home.
Our rating score based on the review, Plus taking into account a few random users experience reviews on the amazon market is 9.5/10.
I found the price of the Sunny Trainer on Amazon is 19% lower than what the Company Sunny

™

itself offers.
While squatting can be fun, healthy, and satisfying, adding two more challenging exercises to your daily squatting routine can take your fitness journey to a whole new level, and the Sunny Health and Fitness Squat Assist Row-N-Ride can help do just that for you, while keeping your knees safe.