(Last Updated On: June 1, 2022)
Over the past 3 years, I've been getting passionate about sports smartwatches, I own different types of smartwatches to monitor my workouts, and recently planning to buy a Garmin Vivoactive 3, so I did a thorough research to find out the difference between them, comparing Garmin Vivoactive 3 Music vs Vivoactive 3 Non-music, which are the best, and is it worth buying!
Because what I have finally understood is that this version of the Vivoactive 3 is more stable than the Vivoactive 4, it is also less expensive, and in the end the basics are almost the same in both.
The difference and comparison between Garmin Vivoactive 3 Music vs Vivoactive 3 ? Vivoactive 3 Music has the ability to download and play a total of 500 songs by connecting to Spotify or Amazon, It has accident detection during exercise, Battery life stays 5 hours when playing both GPS and music, and GPS is more accurate. While the standard Vivoactive 3 is a bit heavier and comes with a stainless steel bezel.
People become more passionate about sports and how they perform during training, and are able to track and improve the progress of their adopted sports. Garmin Vivoactive 3 or Vivoactive 3 Musical Watches are popular and reliable smartwatches that are capable of covering different types of exercises while providing a wide range of features.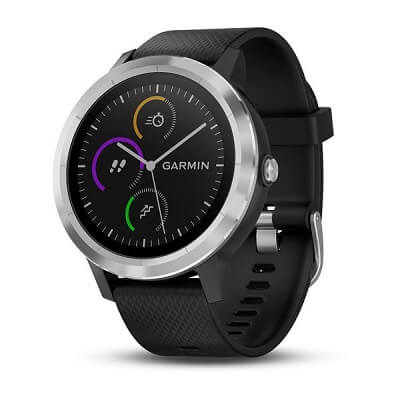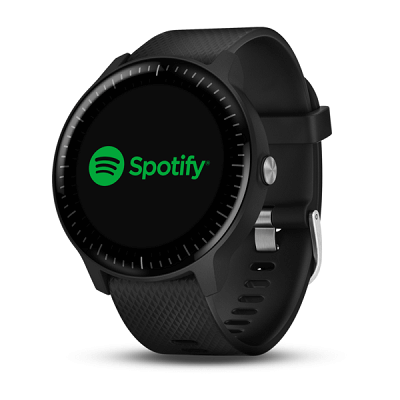 Let's acquainted the differences in details and full features of what each version offer, at the end of the article you can decide which one suits you best.
"
O
n this page contains some sponsored links and advertisements with special deals
, As an Amazon Associate when use the links for a qualifying purchases I may get a small commission at no extra cost to you, 
and you may get a great bargain.
Read Full Disclosure

"
In short, 90% of the differences are based on the Vivoactive 3 Music released in 2018, which has additional features from the non-musical Vivoactive 3 released in 2017.
Surely the first big difference is that Vivoactive 3 Music supports music, which allows you to download to your watch and play up to 500 songs, So you will never run out of all your favorite songs suitable for all the different exercises you plan to do, or for your daily routine.
In addition, you can connect to Spotify, Amazon or Deezer apps at any time to access different albums and podcasts, and organize or download playlists.
On a Design level, the standard Vivoactive 3 adds a stainless steel bezel to provide a serious, sharp look, but on the Vivoactive 3 Music they remove the bezel and replace it with a curved glass to follow the modern design with a sleek look.
As for the level of Safety Measurement, in Vivoactive 3 Music it has a precise sensor, which can detect accidents during training, such as a fall while running or cycling, as well send on a real-time notification to the pre-selected emergency contact with a message containing your exact location, so you'll always feel your watch always ready when you need help.
The Battery life is the same for both, except for Vivoactive 3 music, it's up to 5 hours if GPS and music keep going all the time, so it's enough for daily training route, but you can save more battery if GPS is off if you don't need it, it will reduce Lots of battery drain hours.
As for the Watch Colors, it comes with two main colors each, but there is one common color which is black with silver, and the additional color for the Vivoactive 3 is Black with Slate, but for the Vivoactive 3 music, it comes with Granite Blue with Rose Gold, which is a great color style, and this highly in demand, and not always available in the market.
Slight difference in Size, weight for the Vivoactive 3 music is lighter with 39 grams, compared to 43 grams for the Vivoactive 3.
After we've looked at the differences at a high level between the two Vivoactive 3 series of Garmin editions, let's get into the detailed features of each, there are plenty of exciting options to talk about with this watch, here we go.
Garmin's research goals between 2017-2018 were to put effort into the design of the watch, so in the Vivoactive 3 music you'll find looks more modern and Sharm, By changing the silver steel bezel that has the ability to scratch and replacing it with a curved edge of strong shiny glass, to provide a sporty look, and give the necessary hardness, so you don't have to worry while doing any sports or activity.
For both versions, the 1.2-inch touchscreen display, with a resolution of 240 x 240 pixels, gives you enough screen space to navigate through the various functions, Plus a single push-button on the side of the watch, which allows you to quickly start your workout and stop once you're done, to calculate the time you spend, laps, and your stress level during your workout.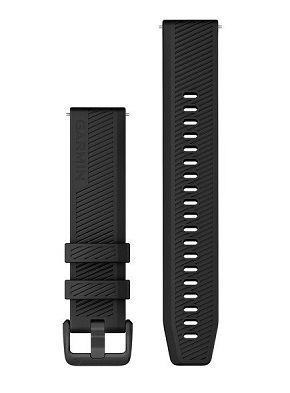 The material of the Vivoactive 3 Music case is polymer, for the Vivoactive 3 polymer case and the case back is stainless steel, the strap is made of strong silicone, This is comfortable to wear, suitable for wrists up to 127mm to 204mm, and strap can be easily changed at any time with a sliding pin at the back, in case a split occurs or if you wish to change to a different favorite color.
One last thing, for people who like changes or routine-free, you have the ability to customize your Garmin watch with free watch faces, and widgets to suit your theme, by accessing the Garmin Connect IQ Store app, So you can change your watch face based on your activity or mood that day, and using this app also allows you to run and view detailed metrics reports detected by the watch.
This section is only exclusive to Vivoactive 3 Music, because the other version does not support music.
Some people are not passionate to do fitness exercises or quad strength workout, without being driven by music, which motivates them to keep going and pushes them daily to keep exercising. That's why Garmin recognizes this need to dedicate one watch to this goal, and it will also eliminate the need to keep any other devices for storing music, to enable the All-In-One watch device.
You have ample storage space in your watch up to 500 different songs, you can connect to different store apps, such as Spotify, Deezer or Amazon and download or listen to songs, albums, artists and create favorite lists, Or you can upload songs that on your computer or laptop by connecting a USB cable to your watch and manage the file with Garmin Express software, so you can choose the music that best suits your activity during training.
It's easy to organize your songs on the watch and sort them based on album, artist, playlist or genre.
You can listen to music by connecting the watch to your Bluetooth headset, so you'll work out without worrying about headphone cables that will limit your movements.
The Vivoactive 3 Music pairs with a variety of wireless Bluetooth headphones, and according to Garmin, the best kind for this job is to use buds to listen to music, that's fit and stick firmly in the ears, even in the most rigorous exercise activities.
Even if you have a headset and want to improve, the following two are great options for people who take it seriously, with long battery life, light weight, volume adjustment and waterproof air buds, Choose Jaybird Earbuds on Amazon, or you can opt for high-quality and clear sound, sweat-resistant, so you need to try Bose Sports HD Sound on Amazon, which will take you on the adventure you need.
Fitness Activity and Trackers
It's not necessary to perform running or walking only to record progress details, the watch settings are compatible with a variety of exercises and fitness activities you can do, such as, Outdoor/Indoor Cycling, Swimming, Rowing, Yoga, Skiing, Strength Workouts, Cardio and even Golf. 
You can use the predefined workouts with 15 pre-set and ready-to-use workout programs directly for each of these programs, you have the ability to change setup for each of them, also you can download other programs for free from the store, to keep your schedule fresh with new activities.
Even you can create your own custom program for any exercise whether running, strength training, cycling etc. from their you can monitor your daily exercises, sets, repetitions, time spent, distance, stress and rest time.
(GPS) provides outdoor sports activity track-following experience, which will create a visual map of the activity track by drawing your route line from start location to end point, what is the distance and time it takes to complete, also GPS in Vivoactive 3 Music is more accurate than Vivoactive 3.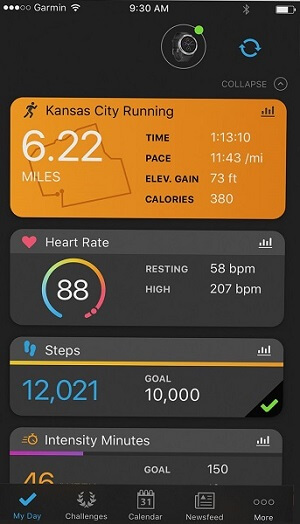 For outdoor exercises, the watch can record your track elevations and maximum and minimum height numbers for the full journey recorded in foot unit, so you can re-display high or low areas, body efforts while performing and display the amount of calories burned.
Vivoactive 3 Music and Vivoactive 3 both are waterproof, so the watch has water resistance, and you can swim up to 50 metres depth.
Also as core features, it has a calendar and weather forecasting.
For health trackers, people with arrhythmia, it measures your heart rate regularly, and it can inform you if a certain limit is exceeded, through alerts so that you are notified and the required actions can be taken.
You can track your daily sleep activity that will be highlighted until you wake up, it can even identify the hours of deep sleep, the time you spend, and give you a brief hint with numbers that you have enough or less hours of sleep than usual.
There are various fitness sports programs already set up with different measurement parameters ready for use once you start your activity, here are some examples:
Running: Under this cover, indoor running and treadmill, results that can provide a complete itinerary chart for your trip, so that you can view on the app, the time, speed, number of steps per minute.
Cycling: Which includes indoor or outdoor cycling, you can set up alerts that will trigger once a specific goal is reached based on time, distance, route, speed, heart rate, calories, and enabled cadence, which is a measurement of the number of pedal strokes, using a small external Garmin sensor cadence device, Easy for installation that required attach on pedal and connected through Bluetooth.
Swimming: It is another exercise profile, which records many metrics, such as length, distance, repetitions, speed and hand stroke, plus an alert can be set up to notify you if a certain time and distance is achieved.
As a sports watch, there are several sensors stacked inside in the backend other than GPS, some of which you know, some you may not be familiar with. These sensors are responsible for measuring direction, gravity, altitude, and many more.
We will review the main sensors inside the Vivoactive 3 music and the non-musical:
Galileo enhances and extends the functionality of the GPS device, providing more accurate identification data, especially in remote areas, tight roads, or tall objects such as buildings that can obstruct the GPS signal.
So in general, it accurately tracks path and can estimate the average speed accordingly.
Another positioning supporting sensor, similar to GPS, but more advanced and complex, which analyzes the Earth's magnetic field to measure the intensity and directions of magnetic fields, to ultimately determine the orientation more accurately.
It's Garmin's in-house optical heart rate technology, which frequently checks your heart rate during the day, or exercise session, and can alert you if certain limits are exceeded.
It measures the current elevations of an area's topography by calculating air pressure, similar to measuring stair climbing, and also provides guidelines to any changes in weather.
Is a Global Navigation Satellite System that works alongside with GPS to provide location data. The advantage of GLONASS is that it has an orbit inclination of approximately 66 degrees, an additional 10 degrees of GPS orbit inclination, so it is more accurate at high latitudes (south or north)
A required sensor that determine the directions and movements of the watch, by measuring static or dynamic velocity over time, which means can predict and monitor the state of running, walking, cycling or static such as sleeping.
The Gyroscopes known as angular rate sensors, they measure angular motion, by calculating the rate of rotation of an object based on a three-dimensional axis.
To monitor forward and backward movement and enhance direction measurement. And this sensor is only present in the Vivoactive 3 Music version.
It is important to mention the connections, which allows to know if your watch is able to connect with other devices, is compatible with them, or capable to perform certain feature, so we will briefly showcase these features on below table:
| Connectivity | Vivoactive 3 | Vivoactive 3 Music |
| --- | --- | --- |
| Android OS | Yes | Yes |
| IOS | Yes | Yes |
| Bluetooth | Yes | Yes |
| ANT+ | Yes | Yes |
| Wifi | No | No |
| NFC | Yes | Yes |
| Auto Sync data with Computer | Yes | Yes |
| Receive and Respond Text messages | Yes | Yes |
| Receive and Respond Social Media | Yes | Yes |
| Find My Phone | Yes | Yes |
| Find My Watch | Yes | Yes |
The watch can alert you of any incoming calls on your mobile, and provide you with the ability to make a decision by muting or rejecting that call. But it doesn't have a microphone or speaker to answer those calls.
It is important to understand the battery life of the watch, especially if you want to use it for outdoor sports, because for a long exercise activity such as cycling or hiking, you need to know how long the watch can last.
In general, both versions of Garmin have common battery life, except in the case of music playback, below their respective details:
Vivoactive 3 Battery Life

In Smartwatch mode it stays up to 7 Days
In GPS mode it stays up to 13 Hours

Vivoactive 3 Music Battery Life

In Smartwatch mode it only stays up to 7 Days
In GPS mode without music, it stays up to 13 Hours
In GPS mode with music up to 5 Hours
After realizing the lifespan of a battery, you have to practice how to retain the battery of the watch to prolong its life by following simple methods of habit:
If in case you're not using Bluetooth make sure to keep it off
Make the display brightness low
Use GPS wisely
Turn off any unwanted background programs or alerts
Do not charge the battery all night before going to sleep, after a while its efficiency will gradually decrease
For best results, don't wait until the battery percentage is 0% – 10%, charge beforehand.
Health and Safety Monitoring
The watch has many features and functions that allow health measurements to be taken, which is useful for keep tracking yourself during the day or exercising without worry.
Other than that the watch can measure heart rate, maximum and minimum during the day, Garmin offers the ability to connect external accessories to a chest strap that you can wear comfortably and is compatible with both versions, similar to the Polar H10 heart rate monitor.
If you want a diet, a watch during activity will provide the amount of calories you burn, which will encourage you to keep exercising until you achieve your goals with your body weight.
Track your stress level and fitness level with the VO2 Max and Elevate sensor, to show how your body responds to different situations, Such as Heart Rate Monitoring (HRV) to indicate if there is any change in your body pressure, so you can be aware if there are any physical or sentimental conditions affecting you, so you can measure the rate of this stress and try to lower it.
With alerts, you can set up the abnormal heart rate if it rises at any time, and the watch can remind you of the daytime breathing function, And set a timer for it, to keep your body relaxed with adequate oxygen.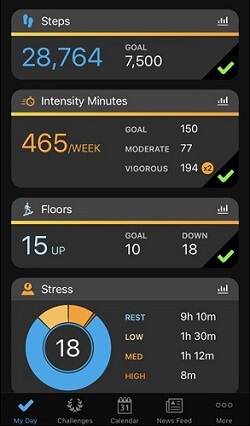 Measure your Hydration levels, that notify you when you need to stop exercising and it's time to drink water, and it will measure this by monitoring your sweat loss during exercise.
In terms of Safety Monitoring, Vivoactive 3 Music has the ability to detect accidents in the event of a fall while running or cycling outdoors, It sends a real-time notification to your selected emergency contact including your exact location, so it's like 24 virtual assistants by your side, in case you need help and be safe on the road. 
Bank money in your arm, Now with Garmin Pay technology, there's no need to carry cash, a phone, or a card to pay for coffee or any other device, just to focus on your workout, In both versions of the Vivoactive 3, you can pay wirelessly by swab your watch on contactless payment devices, and you're done.
But you need to make sure that your country and your bank are supported by Garmin pay participation banks.
How does Garmin Pay work? First you need to install the Garmin pay app, then define your credit card in the app, then it's ready for financial transaction, just tap the wallet icon on your watch every time you want to pay, and tap your wrist over the payment device.
There is a password that you need to enter every 24 hours, in case your watch is stolen, so there will be a specific time for the touchless payment function to expire, until you enter the correct password.
Share, Compete and Challenge
Not only is activity data stored on a standalone watch, but Garmin is a huge welcoming community just like you, who interact and communicate daily with each other.
So you can synchronize your activities and the result is to share your results, or compete by join exercises with other members within the community to ride a bike or run on a certain distance and track, and once the exercise is over, will appear the winner of that race.
So it encourages the community to develop in fitness, and this can be a motivator for any member to evolve in this challenge, leading them to achieve their daily or weekly planned health goals.
And ultimately, you can share your results on social media, so they can track your progress.
In this article, I introduce the main differences and features comparison between Garmin Vivoactive 3 Music and Vivoactive 3, Now it's your call to decide your favorite smartwatch.
If your passion is to enjoy music to be a part of the watch while doing sports, without having to carry another dedicated music device, Having a more accurate GPS sensor to track your route, and equipped with an additional safety measure in case of a fall during any outdoor activity, if you are looking for all these features, means you are simply looking for Vivoactive 3 Music, it will definitely be your right choice.
If these features are not of your interest, you can simply go for the standard version, Vivoactive 3 will be your logical choice, check if it is available in the Amazon store, by clicking below.
In both options, you will gain by maintaining your health, which the watch will keep reminding you of, due to the availability of great features, and will help you track your progress to improve your activities within a community passionate about sports.